DeBoer's Auto is excited to announce the addition of an electric vehicle to our loaner fleet! With the popularity of electric vehicles soaring recently, we have serviced many of them over the years. The one thing we have been missing is the ability to loan an electric vehicle to people, but that will change now. Here's what you need to know about our EV loaner and how you can use it the next time you visit us.
DeBoer's Auto Keeps Up With The Trends
It's no secret that manufacturers are investing a lot of money into the electric vehicle market. Electric vehicle production has increased significantly and DeBoer's Auto has kept up with it every step of the way. We are knowledgeable in servicing electric vehicles and now we have one to offer if yours is in our shop for service. Our motto is to help people live life uninterrupted and the addition of our electric loaner vehicle is further proof of this.
What To Know About Our Electric Vehicle Loaner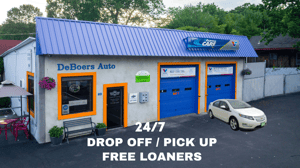 Whether you drive an electric vehicle primarily or not, our electric loaner vehicle is available to you. But you don't have to drive it if you don't feel comfortable doing so. The car is a Chevrolet Volt and it is a very smooth-riding vehicle. It has a range of over 200 miles when it is fully charged. We have an electric vehicle charger on-site so you can feel confident knowing it has a full charge when you use it as your loaner vehicle.
Try Out Our Loaner To Help You Decide If An Electric Vehicle Is Right For You
One of the best ways to know if a particular vehicle is right for you is to try it out. So if you've been thinking about potentially buying an electric vehicle, ask for our EV loaner the next time you bring your vehicle in for service. You can test it out for the day and see how it drives so you can get a better feel for whether it's right for you.
DeBoer's Auto always keeps up with the latest trends and the addition of an electric vehicle to our loaner fleet proves it. We can help answer any questions you have about electric vehicles if you're interested in potentially purchasing one. They are nice vehicles, but there are definitely differences to be aware of. To learn more about our EV loaner or for other helpful tips, contact us at any time.