As we get into the colder months, chances are you will see a light on your dashboard illuminate that indicates your tire pressure is low. It can be a nuisance at times, but luckily it's not an urgent issue that requires immediate attention in most cases. You still want to keep your tires inflated to the appropriate level as soon as possible, though. There are some misconceptions about tire pressure settings, so we wanted to discuss a few things with you.
Find Out Your Tire Pressure Settings
The best place to find your vehicle's tire pressure settings is in the door jamb on the driver's side. There is usually a sticker in this location, but sometimes it will be in the fuel door depending on the manufacturer. Regardless of the location, every manufacturer is required to have this sticker on the vehicle somewhere that describes what the tire pressure should be.
A common mistake people make is looking at the sidewall of the tire to get this information. Tire pressure settings are found on the sidewall, but it's not the information you should rely on. The tire pressure settings must be for the specific vehicle rather than for the tires themselves. That's why it's important to rely on the information on the sticker instead of the sidewall of the tires.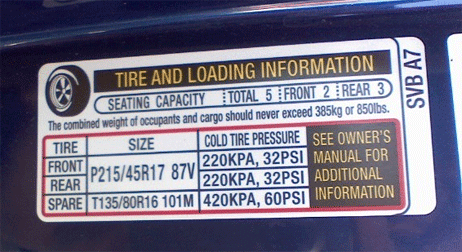 The Problem With Overfilling Tires
When people have tire pressure issues, they sometimes think the solution is to overinflate the tires past the point where they are supposed to. The idea then is they can drive on the tires longer before they need to be inflated again. The problem with this is when the vehicle is moving down the road, the tires heat up, causing the air to expand, and this could lead to a blowout. So if you have a bad tire that's constantly leaking air, it's best to have it repaired properly as soon as possible.
Reach Out To DeBoer's Auto To Continue Driving Safely
With the winter season here, it's important to maintain every aspect of your vehicle. The tires often get neglected in the winter season checklist until the low tire pressure light comes on. Now is a great time to have your tires inspected to ensure there are no leaky valves or other issues you might not know about.
DeBoer's Auto is here to help you stay safe on the road throughout the winter season. If you have any questions about tire pressure settings or need any other tips about safe driving this winter, don't hesitate to contact us at any time.