The month of April is significant in many ways, and one of those ways is the celebration of Earth Day. A lot of attention gets placed on recycling for plenty of good reasons. Consumers can do their part by recycling everyday items, and businesses can go out of their way to recycle various items as well. At DeBoer's Auto, we do our best to recycle everything possible and even educate our customers on what can be recycled on their vehicles. We've got you covered with some valuable information on vehicle recycling.
Vehicles Are The Most Recycled Items On The Planet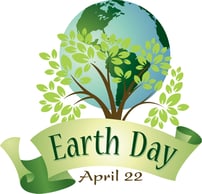 Most people don't know that vehicles are the most recycled items on the planet. So when you get rid of your car that doesn't work anymore, up to 80% of it by weight can be recycled and repurposed. Around 25 million tons of components from vehicles are recycled per year across the world. And speaking solely about the United States, automotive recycling is the 16th largest industry in the country.
How Vehicles Can Be Recycled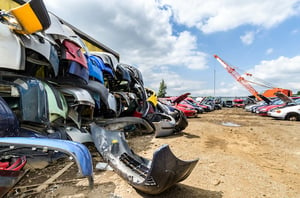 When your vehicle has reached the end of its life in its current form, many of the parts on it can be used to restore other vehicles. Just because a vehicle doesn't run anymore doesn't mean all of the parts are faulty. Many companies will even buy the parts to repurpose them in other vehicles. Even engines, differentials, and similar items can be reconditioned and used as replacement parts for certain vehicles. Batteries, tires, and fluids can also be recycled easily. Any plastic parts are typically melted down to be used in new pieces of plastic. Glass parts usually aren't salvageable, but can be recycled in some situations.
Every Vehicle Lives Many Lives
Roughly 85% of new steel created for vehicles is made from recycled vehicles. So whether you have a brand new vehicle or have driven the same vehicle for many years, you should know that it likely has been part of a different vehicle at some point. And the current vehicle you're driving will likely also be a part of a different vehicle in the future.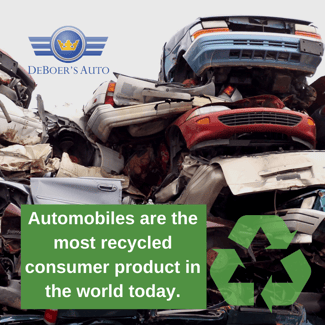 We can all do our part to recycle and contribute to a healthier and cleaner earth. DeBoer's Auto makes it a point to recycle everything possible and educate others on doing the same. With so many recyclable components on vehicles, it's easy to salvage many of the parts and repurpose them. For any questions or tips on how to recycle your vehicle, contact us today.