Cinco de Mayo comes with a lot of history. The Mexican cuisine delights in many layers of freshness, richness, and many hours of preparation, but always worth the efforts.
That being said, we've put together a few delights for you to try and they don't take hours upon hours to make. Somewhat quick, but oh so tasty. You might want to grab a
few cervezas to go with, or try out this tasty sangria concoction, we think it's pretty solid!
Mango Black Bean Quesadilla
Ingredients
4 flour tortillas
1 cup shredded Pepper Jack Cheese or Mexican blend cheese
1 large mango diced
1 cup black beans rinsed and drained
1/2 cup diced red bell pepper seeds removed
1 large avocado diced
2 green onions chopped
1/2 jalapeño seeds removed and minced
1/4 cup chopped cilantro
Juice of 1 large lime
Salt and black pepper to taste

Instructions
In a medium bowl, combine mango, black beans, red pepper, avocado, green onions, jalapeño, cilantro, and lime juice. Season with salt and black pepper, to taste. Gently stir.
Divide mixture evenly over two of the tortillas. Sprinkle cheese evenly over the mixture. Place the remaining tortillas on top.
Heat a large skillet or griddle pan over high heat and cook the quesadillas, turning over once, until golden and cheese is melted about 4-5 minutes total. Cut into triangles and serve immediately.
Restaurant Style Salsa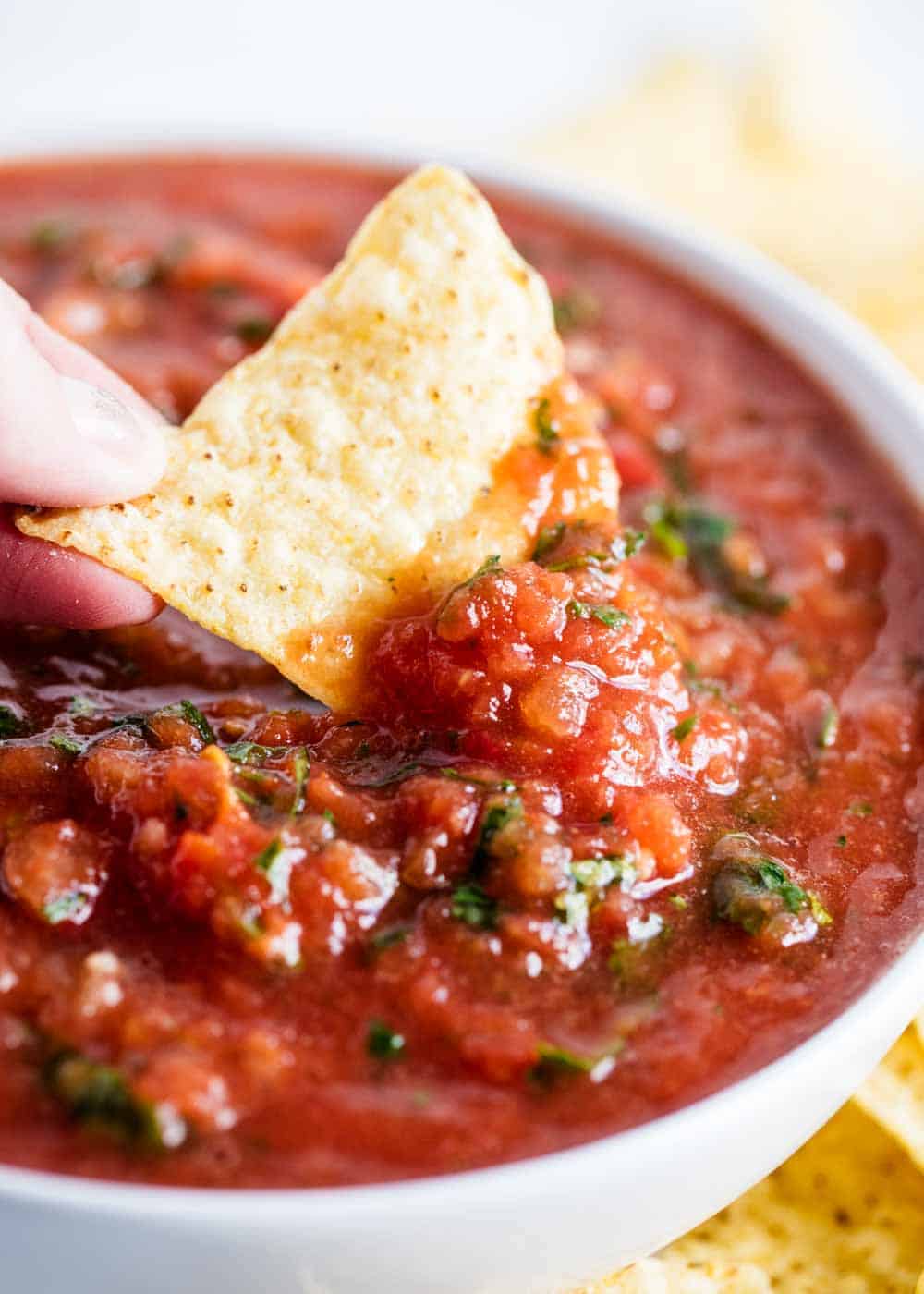 Two 10-ounce cans of diced tomatoes and green chiles
One 28-ounce can of whole tomatoes with juice
1/2 cup fresh cilantro leaves
1/4 cup chopped onion
1 clove garlic, minced
1 whole jalapeno, quartered and sliced thin, with seeds and membrane
1/4 teaspoon ground cumin
1/4 teaspoon salt
1/4 teaspoon sugar
1/2 whole lime, juiced
Combine the diced tomatoes, whole tomatoes, cilantro, onions, garlic, jalapeno, cumin, salt, sugar, and lime juice in a blender or food processor. (This is a very large batch. Usie a 12-cup food processor or you can process the ingredients in batches and then mix everything in a large mixing bowl.)
Pulse until you get the salsa to the consistency you'd like. About 10 to 15 pulses. Test seasonings with a tortilla chip and adjust as needed.
Refrigerate the salsa for at least an hour before serving.
HOMEMADE GUACAMOLE
INGREDIENTS

2 ripe avocados
1 onion finely chopped
1 T fresh cilantro finely chopped
2 T fresh lime juice
1 clove of garlic
1 t salt 1 t pepper
1 small jalapeño seeded and finely chopped
one medium tomato seeded and diced
Scoop out the flesh of avocado with a spoon, coarsely chop it.
Slightly mash the avocado then add onion, tomato, jalapeño, cilantro, garlic, and some lime juice. Salt and pepper it to taste.