Meet Bill DeBoer, Shawn Gilfillan, and Russ Crosby.
You may wonder what these three men have in common. Actually, more than you might think. They are all business owners in NJ. Bill DeBoer owns DeBoer's Auto in Hamburg, NJ. Shawn Gilfillan owns Automotive Magic in Kenvil, NJ. Russ Crosby owns Russ's Wrench in Clinton, NJ
All three of these men operate their businesses the same way: They employ ASE certified technicians in small, friendly, family-owned and operated buildings.
Within the industry they might have never met. Small business owners work hard to grow and sustain their businesses. Sometimes they may get introduced to each other at a conference or a seminar, but then might not see each other for another few years. These guys made a decision to use Business Networking International (BNI) to network and grow their businesses, and it's been a connection they have been happy about ever since. Using similar technology, resources, and tools, they all bring something to the table. In the length of time they have worked together to provide business networking and support, their friendships have grown, too.
Here in NJ we have state inspections for our vehicles. We've all had the misfortune of sitting on the extremely long lines at the state lanes to get that sticker. It's definitely not a day at the beach for anyone. New Jersey allows smaller automotive repair businesses to have an opportunity to become a Private Inspection Facilities. A small automotive repair shop can become a Private Inspection Facility with a dedicated MVC Certified Inspector.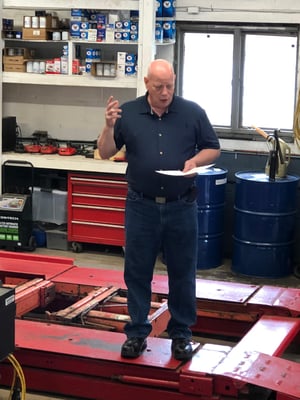 To become a licensed state MVC inspector, requirements are strict. This means you have to know the rules and regulations and adhere to them. Becoming a licensed inspector involves two days of training by the state instructors, usually in Trenton, NJ.
After the training, each candidate has to complete a hands-on test as well as a written test. It's only after they have passed all these sections that they are then certified and licensed by NJ Department of Motor Vehicles to perform inspections at Private inspection facilities.
DeBoer's has been performing inspections for almost three decades. Bill Jr and Bill Sr are both licensed, and when Bill caught wind of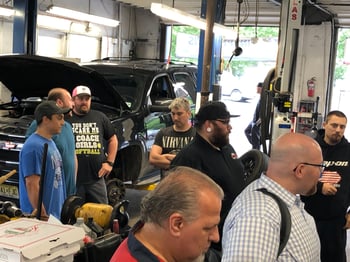 an opportunity to further license the vehicle technicians and service manager at DeBoer's Auto, he reached out to his friends and business network: Shawn and Russ.
Normally, sending a tech to Trenton for Motor Vehicle training involves not only sacrificing the technician's time and talent in the shop for two days, it may also include travel and hotel expenses for the tech, especially if they are coming from Northern New Jersey.
Bill worked with his DMV auditor and devised a plan: Utilizing the Sussex Tech Facility and the equipment on hand at DeBoer's Auto, all three shops collaborated to have all their technicians certified. And that's exactly what happened - Members from all three shops gathered for an intensive two days of training at the local technical school. Automotive Magic and Russ's Wrench now have all their technicians certified and should have their facilities inspected and ready by early fall to perform New Jersey State Inspections.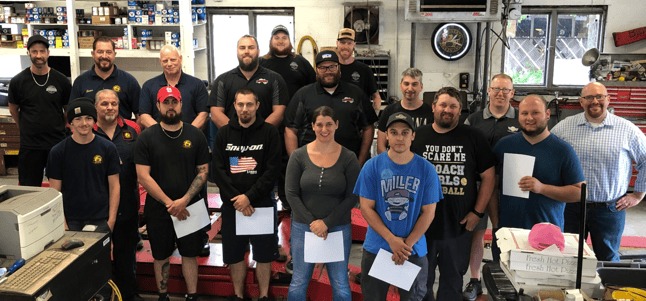 By staying networked, supporting each other, and collaborating, these three shops were able to add 15 budding New Jersey State Motor Vehicle Inspectors to help alleviate the current and active need for them. Providing this certification helps consumers cut down on the time it takes to get their vehicles inspected, and supports small businesses that can provide a quick and affordable alternative to sitting in line at the State Inspection Facilities for hours on end.
Cheers to all involved in supporting growth, big and small!
Collaborating, Networking, Supporting Each other to grow and exceed expectations.