It's the heat of the summer and who doesn't enjoy some tasty watermelon? Seriously, watermelon is not just for the kids, it's great for us kids at heart. So when you've grabbed the smallest one you can find at the grocery store and it could still feed a small country, you'll have a plan ready for some of that delicious sweetness.
Watermelon Salsa Ingredients:
4
c
watermelon diced
2 shallots diced fine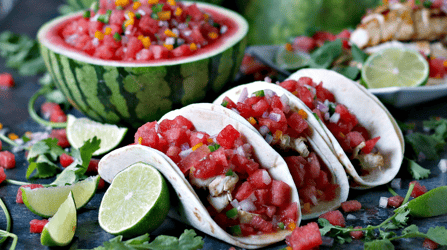 2 Jalapeno peppers diced fine
1/2 red onion diced fine
1 yellow pepper diced fine
1
t
sugar
The juice of
1
lime
cilantro to taste salt and pepper to taste
Honey Lime Chicken Ingredients:
2 lbs boneless skinless chicken breast, grilled
Marinade:
1 lime juiced
2 T honey
1 1/2 t garlic powder
1 1/2 t chili powder
1 t salt taste
1 t white pepper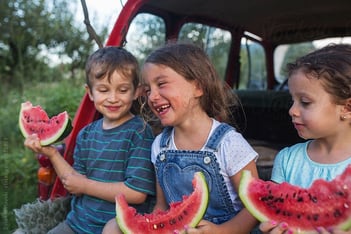 Putting it all together:
1 to 2 T sweet chili sauce
1 small package of tortillas
Instructions:
For the Watermelon Salsa:
Combine watermelon, shallots, Jalapeno peppers, red onion, pepper, sugar, and lime juice in a large bowl.
Combine ingredients thoroughly. Refrigerate for 1 to 2 hours before serving.
For the Honey Lime Chicken Tacos:
Preheat grill to 400 degrees F.

Combine olive oil, lime juice, honey, garlic powder, chili powder, salt, and pepper in small bowl. Stir until combined. Combine chicken with marinade for 15 to 20 minutes.
For Grilling: Cook chicken on each side for 4 to 5 minutes, depending on the thickness of your chicken breasts. (You should check your chicken for done-ness using a meat thermometer to ensure it is properly cooked. Chicken should be cooked to an internal temperature of 165 degrees F.)
Once grilled, place chicken breasts on a plate and brush the chili sauce on while hot.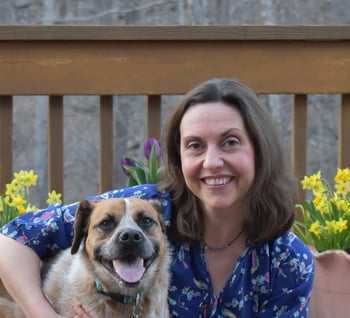 Let the chicken rest, covered with foil, for 5 minutes, then slice them into thin strips.
Put tortillas in foil wrap and put on grill for a few minutes. Pile chicken on tortillas. Top with watermelon salsa.
Thanks to Amy DeBoer for sharing this tasty recipe! She's got an amazing green thumb, so her jalapenos, cilantro, and garlic will no doubt be pulled from her summer harvest.
If you have a summertime favorite, please share it with us.