Most people have played show and tell when they were kids and it's something we also have a responsibility to do at DeBoer's Auto. If you happen to be waiting at our shop while your vehicle is being repaired or maintained, we will inspect the vehicle and allow you to come take a look at the recommended repairs. This allows you to talk to our technician about your vehicle and ask any questions you might have. We take great pride in being transparent with our customers and believe it's our responsibility to do so.
Our Fiduciary Responsibility To Our Customers
We understand many customers don't want to hear what maintenance requirements are needed for their vehicle because of the cost associated with them. However, it's our fiduciary responsibility to inform our customers of what we found during our thorough inspection so they can decide whether to move forward with the repairs. We would much rather inform you of any potential problems with your vehicle upfront rather than not finding the problem and you experiencing a breakdown on the road unexpectedly.
Maintenance Is Usually Required On Vehicles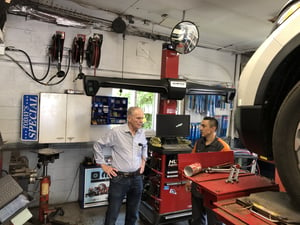 When you bring your vehicle into any auto repair shop for maintenance or an inspection, there will usually be some type of recommendation by the technician. If you don't receive a recommendation, then you should question the quality of work of the technician and auto repair shop. Whether it's major or minor repair work, it's important to get the vehicle fixed so you don't end up with larger repair bills in the future.
Reap The Benefits Of Car Maintenance For Months Or Years To Come
Bringing your vehicle in regularly for maintenance is similar to visiting your doctor annually. It's always good to get a check-up and the hope is your doctor will make recommendations to you to help you improve your health. This is exactly what we do with your vehicle at DeBoer's Auto. We will document your file with notes and photos so you have a solid record of what has been done and what still needs to be done with your vehicle. The sooner you get any issues addressed, the longer you'll be able to reap the benefits of the maintenance. The last thing you want to do is wait until a bigger problem occurs and then simply put a bandaid on it to get you by.
DeBoer's Auto is here to help keep your vehicle in the best shape possible. Don't hesitate to contact us at any time to schedule a repair or service or to speak with one of our professionals.