Deboer's auto wants to make sure you enjoy a safe and comfortable ride. Get up to $75 back rebate in the form of a TechNet Professional Prepaid Mastercard on steering and suspension purchase and
installation from Technet.
This offer is only available to TechNet Professional service centers like DeBoer's Auto.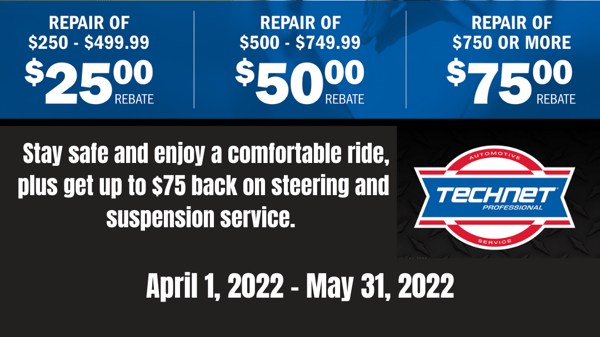 Repair of $250- $499.99 - $25 Rebate
Repair of $500 - $749.99 - $50 Rebate
Repair of $750 or more - $75 Rebate
Don't walk, run to DeBoer's auto to take advantage of this limited-time offer.
For promotional details contact us and schedule your next appointment This offer is valid now until May 31, 2022.