If you own a vehicle, you're familiar with the vehicle inspection process. Like paying taxes, getting your car inspected is just one of those things you've got to do each 2 years. Or is it? Beginning in May 2016, New Jersey will enact changes to its vehicle emissions inspection program. For one group of car owners, the changes will certainly be welcome!
Upcoming Changes to the NJ Motor Vehicle Inspection Program
Here's what you need to know about upcoming changes to New Jersey state inspections. The first change is commercially registered vehicles no longer will undergo their initial inspections in the state lane. They'll be required to have all inspections performed at a private inspection facility.
Under the new rules, passenger-registered vehicles can still be inspected initially at the state lanes. However, if your vehicle fails the state-lane inspection for emissions (the only thing New Jersey inspects), you'll be required to go to an emissions-repair facility to have repairs done or perform repairs yourself, as long as you can provide documentation and parts receipts related to those repairs. In both cases, you'll no longer be able to use the state lanes for re-inspection. Instead, you'll need to take your car and your repair paperwork to a private inspection facility. The last change will certainly be a welcome change to those it affects. Beginning this summer, all 1995 and older vehicles will be exempt for New Jersey inspections. That's just one thing car collectors and hot-rod enthusiasts can cross off their annual must-do lists!
Now that you know what will be expected of you when your car needs an inspection beginning this summer, you may wonder what the point of the car emissions test is in the first place. Simply put, emissions testing ensures vehicles with malfunctioning emission-control systems (meaning vehicles that are polluting the air) are taken off the road until they're repaired. Approximately 17 percent of cars tested fail. Having these vehicles' emissions systems repaired eliminates a whopping 4,000-plus pounds of emissions on a typical summer day. That's right 4,000-plus pounds per day! Emissions testing helps us all breathe easier.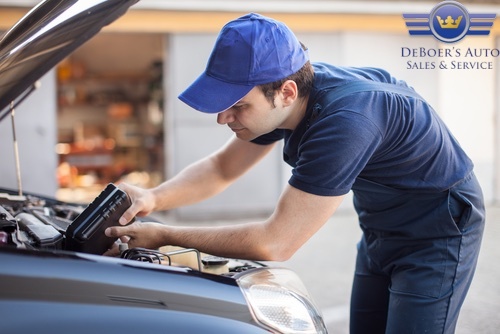 How Is an Emissions Test Conducted?
Testing protocol varies depending on your vehicle make and model year, but all emissions tests involve a gas-cap pressure check to make sure the gas cap is keeping fuel vapors from escaping. On-board diagnostic (OBDII) testing is one of the most common approaches for 1996 and newer vehicles. It involves attaching a scanner to the car's on-board computer and downloading data to detect malfunctioning emissions equipment.
Next time you're due for a New Jersey vehicle inspection, skip the lines at the state lane and head to Deboer's Auto Sales and Service. Hopefully your vehicle will pass with flying colors. If it doesn't, we'll be able to repair it and re-inspect it, saving you time and expense. Any questions? Contact us!