Windshields are obviously one of the most important pieces of glass on your vehicle. Visibility is critical when you're driving and any time you can't see clearly, you're putting yourself and others at risk of getting seriously injured. Accidents can happen any time when a rock or other debris hits your windshield and cracks it, so taking swift action is important. Here are some of the most common problems and solutions to be aware of with car windshields.
Windshield Chips
Windshield chips might not seem like a big deal when they occur, especially when the chip is small. The problem is the chip can turn into a widespread crack quickly if it's not attended to right away. When you have a windshield chip, bring your vehicle to Deboer's Auto. We will drill into it like a cavity, extract all of the air and moisture inside the chip, and fill it in with special epoxy to seal it and prevent cracking.
Windshield Cracks
I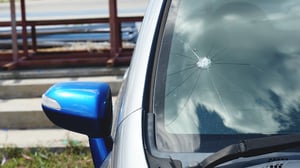 f you don't have windshield chips repaired immediately, they could turn into cracks. When that happens, you'll have to buy a new windshield which can be a very expensive purchase. New cars today have cameras for the anti-collision system, so when you have to replace your windshield, that system has to be recalibrated. This process potentially doubles the cost of replacing your windshield, so it's very important to prevent cracking if possible.
Use The Appropriate Washer Fluid
Using the right washer fluid inside your washer system is also important to ensure your visibility is as good as it can be. You want to use a high-quality blend of washer fluid that prevents it from freezing, which can cause several problems. Some of the top washer fluid brands also have a repellant in them to help repel dirt, debris, and water so you can maintain good visibility at all times while you're driving.
Apply A Thin Coat Of Car Polish On Your Windshield
Putting a thin coat of car polish on your windshield can help repel water from your windshield significantly. Once you have the polish buffed and your windshield is shiny, you'll have at least a couple of months of protection where the water is naturally repelled from the glass. Many times, depending on certain driving conditions, the water is repelled so well that you don't need to use your windshield wipers.
Bring your car into DeBoer's Auto right away if you experience a chip on your windshield. We will ensure it doesn't evolve into a crack so you can avoid paying a costly windshield replacement bill. For other great tips and to keep your car in top shape, be sure to contact us at any time.