For small business owners, taking care of your fleet is likely one of your top priorities. Buying new vehicles from the dealership may be a great option for your company for various reasons. However, when it comes time to service them, chances are going back to the dealership isn't your best option. Here are some of the reasons why DeBoer's Auto can take the headaches out of servicing your fleet and keeping them in top shape.
Avoid Long Downtimes
When you take your vehicle to get serviced at a dealership, you'll likely experience a lot of downtime with very few updates, if any at all. It's not unheard of to never receive a single update a week after you dropped it off. At DeBoer's Auto, we will reach out to you periodically via your preferred method of contact, whether it's a text message, phone calls or email. You will always be in the loop with the status of your vehicle's service request.
Comprehensive Digital Vehicle Inspections
Mitigating risk is one of the major factors of running a fleet. With our comprehensive digital vehicle inspections, we will capture the condition of your vehicle at the time it's brought in for service. We keep digital records of all items and safety equipment on the vehicle so you can have peace of mind knowing everything is accounted for in the event of an unexpected accident.
Accessibility To Loaner Vehicles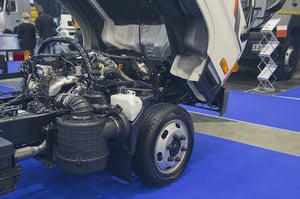 Most car dealerships don't offer loaner vehicles for commercial use, which can put your company in a bind if the service of a vehicle takes several days or weeks. DeBoer's Auto has a sister business that offers U-Haul trucks, cargo vans, box trucks, moving trucks, trailers and more. We will do anything in our power to keep your business moving forward as we work to get your primary vehicle back in good shape.
Consolidated Corporate Billing
Our corporate billing program allows you to define the terms in which you would like to pay invoices. This provides businesses with the flexibility to spread out payments over 30-, 60-, or 90-day terms if needed. We understand repairs can sometimes be costly, and some months may be tougher than others to absorb those expenses. No fees or costs are involved with our program, which is something dealerships don't even offer to their commercial customers.
Warranties And Guarantees
Small business owners should feel like the auto repair shop handling their fleet is taking care of them the best they can. Many car dealerships won't back their services or repairs by any warranty or guarantee. At DeBoer's Auto, all of our repairs are guaranteed for 36 months or 36,000 miles nationwide.
We never want you to have to worry about doing a repair twice at DeBoer's Auto. Our technicians and experts are highly qualified to service your fleet and we strive to make the process as easy as possible for you. When you need any type of service, contact us to schedule your appointment.