DeBoer's Auto takes a lot of pride in helping customers with their vehicles in more ways than they think they need. We can do this by identifying potential future problems in your vehicle and addressing them before they become more costly. The information and resources available to us are what makes it possible, but this information is in jeopardy. An important Act is in front of Congress right now called the Repair Act, and we could use our customers' help in supporting us.
What The Repair Act Entails
The Repair Act ensures equal access to repair data for independent repair shops and helps preserve a consumer's choice when it comes to getting their vehicles repaired. Right now all the vehicle manufacturers have important data locked up and they want to keep it for themselves. Their goal is to turn the data into monetization factors where they can take a consumer's data and resell it or monetize it all for themselves. This would severely limit a consumer's choice and hurt smaller repair shops at the same time.
How The Repair Act Would Be Beneficial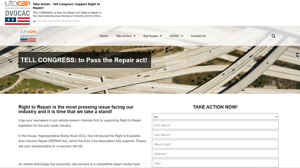 What the Repair Act would do is allow vehicle owners to share the data and information from their vehicle with the repair shop of their choice. It also provides independent repair shops with the necessary information, tools, and equipment needed to perform repairs the right way. Lastly, the Repair Act would require that the National Highway Traffic Safety Administration come up with a cybersecurity plan to ensure all of the data in question is protected so no one can hack into the systems and steal data.
How You Can Help
All of our customers at DeBoer's Auto can help support the Repair Act by signing the petition here. All you have to do is fill in your basic information in a matter of a minute or two and it will automatically email your local Congressman to let them know you support the Repair Act. This is a very important bill that could impact the affordability of auto repairs in the future and ensure independent repair shops have the information needed to provide the best repairs possible.
https://www.autocareadvocacy.org/take-action-tell-congress-support-right-to-repair/
As always, DeBoer's Auto thanks you for your support and we hope you will take a couple of minutes to sign the petition linked above. If you have any questions or concerns about the petition, or simply want to learn more about it, don't hesitate to contact us at any time.