When the winter turns to spring, we start seeing potholes come up all over the roads. This happens for various reasons, but most likely due to the extensive amount of salt brine spread on the roads and snow plows constantly operating throughout the winter. It's hard to see some potholes until it's too late and before you know it, you've hit one at a high rate of speed and sustained damage to your vehicle as a result. What you do immediately after hitting one is important, so follow these tips to ensure the appropriate action is taken.
Pothole Damage Is Covered Through Most Insurance Carriers
Most insurance providers will cover pothole damage if the expenses exceed your deductible. Every insurance policy is different, though, so you need to check with your provider to understand what the deductible is for the collision part of your policy. You might need to submit pictures of the pothole and the damage sustained to your vehicle, so don't leave the scene immediately if your insurance provider requires those things. The most common types of pothole damage include tire and suspension damage, which can be fixed at DeBoer's Auto without having to go to a body shop to fix it. And we will even help you facilitate the insurance claim with your provider to make the process as smooth as possible.
Submitting Claims To Governing Bodies For Reimbursement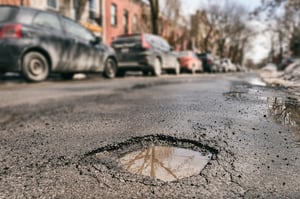 If you experience pothole damage to your vehicle while traveling on a state or county road, you might be able to submit a claim to the governing bodies of those roads. Negligence is possible, so once the issue is investigated and negligence is uncovered, the governing bodies might have to pay for the damage. Check the appropriate website for the governing bodies and follow their specific claims procedures and be sure to upload any towing invoices or police reports you collected as a result of the damage. You'll still need to work with your insurance provider to navigate the details, and between them and the governing body, you could have the entire repair covered.
Call DeBoer's Auto For Assistance
If you have any questions about what to do after sustaining pothole damage to your vehicle, feel free to call DeBoer's Auto at any time. We've seen anything from minor tire damage to severe suspension damage resulting from hitting a pothole, and we can fix most problems that occur. We can help you facilitate insurance claims and ensure your vehicle gets fixed promptly so it's safe to drive as soon as possible.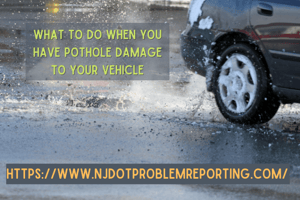 We take great pride in being available when our customers need us. It can be scary hitting a pothole and sometimes you might not even be aware of the extent of the damage your vehicle experienced. It's best to have your vehicle examined when you hit a pothole at a high rate of speed just to give you some peace of mind that you're driving safely. And be sure to contact us at any time if you have any concerns about the safety of driving your vehicle.