Everyone who owns a vehicle in New Jersey has to pass a state inspection to keep driving it legally. Sometimes you may think everything with your vehicle is fine until you receive the dreaded failed inspection notice. There are a few things to know about how the inspection process works. And most importantly, you should know what steps to take if your vehicle receives a failed inspection. We've got you covered with all the relevant information.

What Tests Are Performed As Part Of The Inspection?
The first test that is performed is an OBD II test. This test confirms that the check engine light is working and it's not on and no codes are stored in the vehicle. The state also looks at the backside of the computer to make sure you have all of your monitors ready for inspection. Meeting all of the criteria will give you a passing sticker.

Actions To Take When Your Vehicle Fails Inspection
If your vehicle fails the inspection, you will need to get it repaired to get the passing sticker. In New Jersey, when a vehicle fails inspection, it must be repaired at an emission repair facility (ERF). These facilities must have emission repair technicians (ERTs) on-site to complete the repairs.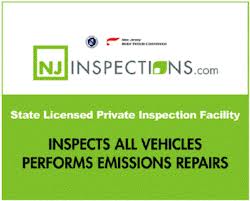 It can take time and effort for an ERT to figure out exactly why the vehicle did not pass inspection and then fix the issue accordingly. The facility must have an ERF license to be able to sign off on the repair for the failed inspection. The form you received with your rejected paperwork must be completed and signed by an ERT and presented for a re-inspection.

Work With A Trustworthy Emission Repairs Facility Like DeBoer's Auto
DeBoer's Auto is an emission repair facility and we have two emission repair technicians on site. So when you bring your vehicle to us for a state inspection, you can rest assured it will leave with a passing sticker even if some repairs are required. Our team can handle all of the paperwork for you so you won't have to jump through hoops just to get a passing sticker for your vehicle.

It's always best to work with an experienced and reputable shop for your state inspection and any necessary repairs. DeBoer's Auto strives to make things as easy as possible for customers so they know exactly what to expect. If your vehicle needs to be inspected or if you've received a failed inspection, contact us to see how we can help you get back on the road.