Getting to sit down and enjoy a home-cooked dinner and not have it be an all-day investment of time makes this dish perfect for a weeknight. Its rich and creamy sauce goes perfectly with the fresh asparagus and the lemon gives it the perfect zing. We like to serve this over some skinny egg noodles, to soak up the creamy and delicious sauce.
Ingredients:
4 chicken breasts (boneless, skinless)
1 T Italian seasoning
1/2 t crushed red pepper
1/2 t salt
1/2 t pepper
1 T olive oil
2 T butter
1 lb asparagus (trimmed and cut in 3rds)
1/2 cup onion (minced)
1 cup heavy cream
2 T lemon juice
1/4 cup Parmesan cheese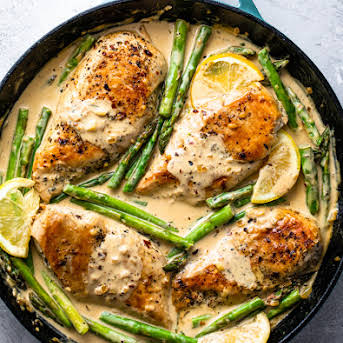 Instructions:
Season chicken with Italian seasoning, crushed chili pepper, salt & pepper. Add 1 tablespoon olive oil to a large skillet over medium heat. Add chicken to the pan and cook for 5-6 minutes per side. Remove from skillet and set aside. Add butter onion, and asparagus to the skillet and cook for 2-3 minutes, or until just tender.
Add heavy cream, lemon juice, and parmesan cheese; stir to combine. Return chicken to the pan and simmer 3-4 minutes or until the sauce has thickened. Taste and adjust salt & pepper if needed. If the sauce is too thick, add 1/4 cup water, or chicken broth.
Prepare your favorite pasta as per the box directions. As I mentioned, I love this over skinny egg noodles.
Enjoy!
If you have a favorite recipe and would like to share it with us. Please do so by clicking the button below.