DeBoer's Auto regularly works with insurance companies to help our customers end up in the best situation possible. When you bring your vehicle to us for an auto repair, we can determine whether an insurance claim is possible. There are a few different types of insurance to know about liability, comprehensive, and collision.
Liability is the one you must have and kicks in when you damage other people's property. Comprehensive insurance covers you in the case of theft, fire, and other types of damages. Collision insurance covers and indemnifies you when you have a collision with other items or vehicles. We will focus on comprehensive and collision to help you better understand what auto repairs might be covered under those policies.
Many Insurance Products Are Similar To Extended Warranties
You might hear about insurance products like MBI, which stands for mechanical breakdown insurance. Most of the time these products are similar to extended warranties. So you have to look closely at the fine print to ensure you are getting the coverage you think you are. There are still deductibles associated with MBI policies, but not all components are covered.
Examples Where Comprehensive Coverage Is Used
Any glass-related issue is covered under your comprehensive insurance policy. Many times you can choose a lower deductible for glass, which helps when you get a crack, ding, or a spider in your windshield. Rodent damage can also be covered under your comprehensive policy. Mice, chipmunks, and squirrels will sometimes chew wires and can cause damage, which is covered under your comprehensive insurance. Even more serious issues like accidentally filling up your diesel-powered vehicle with regular gasoline can be covered under comprehensive insurance since significant damages are likely when this happens.
Examples Of Collision Coverage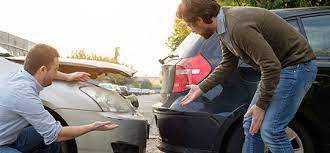 If you veer off the road and run into an object like a curb and experience suspension issues as a result, the repairs could be covered under your collision policy. DeBoer's Auto can help with setting up the collision insurance claim. However, we don't get involved with any type of body damage where replacing body panels with paint work is necessary.
DeBoer's Auto is here to help you understand the differences between your various types of insurance coverage. If there's a chance an auto repair could be covered, we will reach out to your insurance company on your behalf and hopefully save you some money on your auto repairs. It's just another way DeBoer's Auto helps customers every day. Don't hesitate to contact us if you have any questions or if you need repair work done to your vehicle.