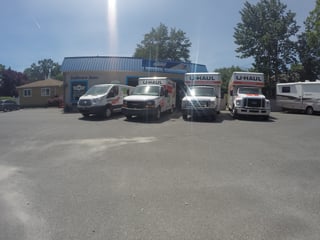 DirectionsYour personal auto insurance doesn't apply
Even the safest of drivers can make a mistake. It can be a costly one if it's in a moving truck since in most cases your personal car insurance won't cover you -- nor will any insurance coverage associated with your credit card.
U-Haul notes that the majority of car insurance companies won't cover their rental trucks due to their gross vehicle weight (GVW) of 9,000 pounds or higher. And rental trailers aren't normally covered by personal auto policies, either.
Most credit cards offer some type of car insurance coverage for rental vehicles, but they typically draw the line at covering exotic cars and moving trucks.
Penny Gusner, consumer analyst for CarInsurance.com, points out that your insured personal vehicle would be covered if it were damaged on a rented trailer during transport -- if you have collision coverage. You'd still be on the hook for the cost of the trailer itself, though.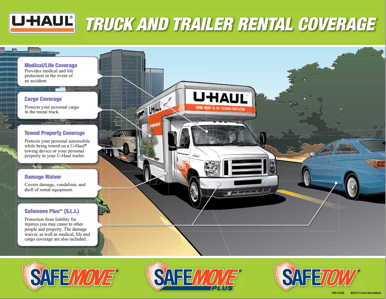 What are your options?
Your moving truck rental agreement or contract normally will include state minimum liability coverage, which is usually quite low, and that's it. The rental company doesn't require you to show proof of any other insurance to drive the truck away.
Moving truck rental companies make it clear that whoever signs the contract is fully responsible for the equipment and any and all damages - regardless of fault. You'll be charged not only for the repair costs, but also loss of income while the truck is out of service.
Rental truck companies such as Budget truck rentals, Penske and U-Haul do, however, offer protection plans that you can purchase.
The details vary, but they all offer the same basic types of coverages, which usually will include:
Damage waiver - Covers accidental damage to the rental equipment.
Cargo coverage - Covers the goods you're transporting for damages resulting from situations such as collision, fire, windstorm and overturning of the rental truck.
Personal accident insurance - Gives you medical coverage for injuries from an accident as well as loss of life coverage.
Supplemental liability coverage - Protects you against claims made by a third party for property damage or liability damage sustained as a result of an accident with your rental truck. Limits vary (maximum usually $1,000,000).
Towing insurance - Damage waiver can include coverage for accidental collision damage to rental auto transport, tow dolly or rental trailer. Also, the towed property coverage portion will typically cover any car, truck, van, motorcycle, ATV golf cart or lawnmower that is being towed with the rental equipment - up to the chosen limits.
Call us at DeBoer's Auto Uhaul to start your safe reservation now!
For more blog posts on Uhaul and how to prepare your car for this summer, click here!
Located at 83 State Rt. 23 N in Hamburg, New Jersey
973-786-3030
Book your appoitnment below by clicking on the image.