I absolutely adore summer because of the abundance of fresh produce and ingredients that allow for incredibly delicious meals.
Now, I'll be the first to admit that I'm not the one with a green thumb or culinary skills in my household. That title goes to my husband. I'm more than happy to venture out to our backyard garden and pluck some lettuce leaves, snip a few herbs, and set the table (and of course, indulge in the tasty creations!). I play the role of his trusty sous chef, and he's the reason why I've developed any kitchen skills at all. Without a doubt, he's the go-to guy for cooking advice, and our family is always thrilled when we host a holiday because they know he'll whip up something truly delectable. (He humbly insists that if you follow a recipe and use quality ingredients, it's not all that challenging.)
This year, he has been growing an abundance of basil, and it's doing so well that he's on the hunt for ways to incorporate it into our meals. Let me tell you, this particular recipe blew me away with its incredible freshness and fragrant aroma. I loved it so much that I even contemplated making it for my mom.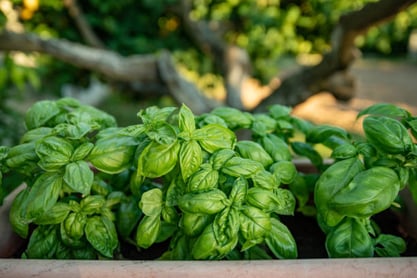 Ingredients:
Extra-virgin olive oil
1 small onion, finely diced
2 lbs zucchini, sliced into ¼-inch-thick pieces
Salt and pepper
2 garlic cloves, minced
2 cups basil, (loose leaves)
1 pound rigatoni
8 oz ricotta, about 1 cup (see recipe)
Pinch of crushed red pepper
Zest of 1 lemon
2 c grated Parmesan
Directions:
In a large skillet over medium-high heat, cook the onions in 3 tablespoons olive oil until softened, 5 to 8 minutes. Reduce heat as necessary to keep onions from browning. Add zucchini, season generously with salt and pepper, and continue cooking, stirring occasionally until rather soft, about 10 minutes. Turn off heat.

Using a mini food processor, ground garlic, basil and salt into a thick paste.
Boil water for pasta, salt the pasta water add the pasta, stirring. Boil until al dente. Drain pasta, reserving 1 cup of cooking water.

Add cooked pasta to zucchini in a skillet and turn the heat to medium-high. Add ½ cup cooking water, then the ricotta, crushed red pepper, and lemon zest, stirring to distribute. Salt & Pepper to taste. Cook for 1 additional minute until creamy. Add more pasta water if too thick. Add the basil paste and half the grated cheese, and stir to incorporate. Transfer pasta onto a warm plate and add a sprinkle of reserved cheese and fresh ground black pepper and basil leaves as garnish. Serve and enjoy!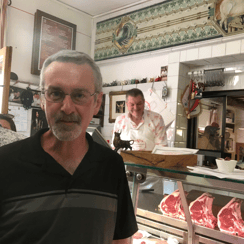 Shhhh - This is the guy who I swiped the recipe from. My better half doesn't like to have his photo taken.