If you are hearing a grinding or squealing noise when you apply pressure on your brakes, this is a common symptom of worn-out or faulty brakes. These noises are obvious and pretty recognizable, which is a good thing: they alert you that it's time to have your vehicle checked out as soon as possible. Other indications of a faulty brake system in need of attention if you are feel a vibration in your brake pedal or the steering wheel, or if your vehicle pulls in one direction or the other while engaging the brakes.
Anytime you experience any one of these you should contact your automotive repair specialists. Luck would have it that going on now, you can save money on your brake pad and rotor repair now through March 31, 2022.
Get up to $40 by email or mail with qualifying brake pads and rotors purchased and installed by our ASE certified technicians.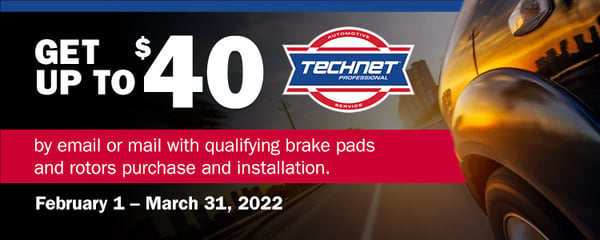 If you suspect your vehicle's brakes need repair or replacement, we encourage you to contact us at DeBoer's Auto Sales & Service in Hamburg. Our team views each customer as an individual, and we know when you trust us to work on your car, you're trusting us with your and your loved ones' safety.