When you've gone through a snowstorm and the snow has finally stopped falling, it's important to prioritize cleaning it off of your vehicle. There are several reasons why it's important, but mostly to keep you and others safe while driving. We've discussed some of the proper tools to use and the best methods for removing snow from your vehicle after a snowstorm.
Use A Good Ice Scraper
A quality ice scraper with a good sharp edge is valuable to have on hand so you can easily and safely remove ice from your windshield and windows. It's a good practice to have one at home in your garage or tool shed, as well as keeping one in your vehicle in case you have an ice or snowstorm when you're out driving.
Find A Quality Snow Removal Tool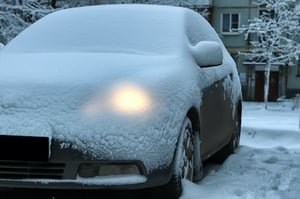 A good snow removal tool will have a foam-type material that won't scratch or damage the paint while you're removing snow. Some people use brooms or brushes, which are effective at removing the snow, but can damage the vehicle if you aren't careful. Damaging the clear coat on the paint might not be visible right away, but will be unsightly years down the road. For tall vehicles, make sure you have a tool with a long handle so you can reach all of the snow easily and safely.
Remove Most Of The Snow When The Vehicle Is Cold
Snow will come off of your vehicle best when it's still cold. It's tempting to start your vehicle and let it warm up and start defrosting before you remove the snow, but this can create more difficulties. The melting can make the removal process a little more challenging and you'll need to put more effort into the job. And when that happens, you'll increase the chances of scraping too hard and potentially damaging your vehicle.
You Could Be Ticketed In New Jersey For Having Snow On Your Vehicle
In New Jersey, there are consequences for not removing snow from your vehicle before driving. You could be fined anywhere from $25-$75 for a basic ticket. But if the snow came off of your vehicle and damaged another vehicle while driving, you could face fines of anywhere between $200-$1,000. So it's well worth it financially to clean off the snow from your vehicle, as well as to keep you and fellow drivers safe.
DeBoer's Auto is here to help you get through the winter season safely in your vehicle. For more tips or help maintaining or repairing your vehicle, don't hesitate to contact us at any time.