Phone apps have become a part of our everyday lives. It seems like any time you have a situation where something could be more convenient, chances are there's an app that can help. We want to focus on your overall driving experience, and the role phone apps can play in it. Part one of our two-part blog series focuses on utility apps that could make your driving experience better.
AAA App
The AAA app is seamless, easy to use, and is very valuable if you break down on the side of the road. You can request assistance through the mobile app and someone will locate you as soon as possible to assist. Other features of the AAA app include trip planning assistance and locating the nearest gas stations and AAA repair facilities. It can help you find gas stations that use top tier fuel, which is highly recommended to use in your vehicles.
Waze And Google Maps
Waze and Google Maps are great navigation apps to help you get to your destination in the most efficient way possible. What's unique about these apps is they are updated constantly. So if you're driving into traffic or could experience delays due to ongoing construction, the app can detour you to a different route if it will save you some time.
ParkMobile App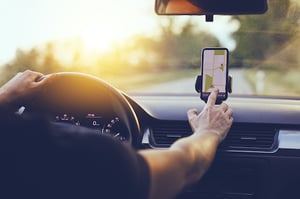 The ParkMobile app is convenient because it acts as a parking meter but can be paid through your phone. Many things are going contactless nowadays, and this includes parking meters. The ParkMobile app can help you find the best parking spots wherever you're going locally or even nationwide.
Privacy For Cars
Privacy is a major concern nowadays with all of the data that is shared about you through your mobile devices. It's easy to sync up your phone to a rental car you may need to help you navigate a new area or simply listen to the playlist on your phone. The problem with doing so is all of your private data is then placed in the vehicle and can be accessed by the next person who uses the rental car. An app called Privacy for Cars can wipe all of your private data from the vehicle when you're done using it.
MileIQ
The MileIQ app is convenient for people who travel for business frequently. You can easily track all of your vehicle-related expenses and submit invoices to your employer directly through the app. It also helps you easily keep track of your expenses so you can use them for your tax returns.
DeBoer's Auto stays up with the latest technology in vehicles to help our customers have a better driving experience. These utility apps are the ones we find to be the most convenient and helpful for the average driver. You may not need to use them all the time, but it's handy to have them downloaded and ready to go when you do need them. If you have any questions, don't hesitate to contact us at any time.