Whether you've owned a pet your entire life or if pet ownership is a new experience for you due to the pandemic, keeping them safe is always a priority. You can't stay home with them all the time, and if you like to travel, you may want to bring them along with you on some trips. Pet safety while traveling is important to ensure they have everything they need on your journey. Here are five ways to travel safely with your pets.
Pet Safety Belts
There are many different brands of safety belts for pets that will keep them more secure than the standard safety belts in your vehicle. You want to keep them secure in the car just like you are so they don't fall and possibly injure themselves if you have to slam on the brakes, make a sharp turn, or get into an accident.
Pet Seat Covers
Pet seat covers are essential if you want your pet to have fun but still keep your vehicle as clean as possible at the same time. Dogs particularly like to run around in new places and get dirty. Then when it's time to go, they hop into your car with muddy paws and fur. When you have a good seat cover, you can simply detach it and wash it when you get home, and you'll have a clean vehicle.
Buy Collapsible Water Bowls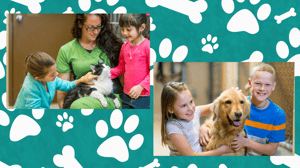 Collapsible water bowls are popular for people who travel often with their pets. These products often collapse into a compact package that can be kept in the vehicle at all times so you won't forget it. Having water for your pet at all times is important, especially if they are active and you'll be taking them on walks or hikes when you travel.
Provide Your Pet With Entertainment
Pets can get bored when traveling, and every dog acts differently with boredom. You're lucky if your dog just prefers taking a nap when they travel. Many pets get so bored that they feel the need to chew on something, which could be the seats or seat belts. Get ahead of this issue by giving your pet a new chew toy or something to entertain them, while saving your vehicle at the same time.
Ensure Your Vehicle Ventilation Is Working
Always make sure your vehicle ventilation system is working properly when traveling with pets. They tend to get overheated quicker than we do, which is why it's important to never leave them unattended in the vehicle. And when your ventilation system is operating properly, they won't feel the need to stick their head out of the window to get fresh air, which could be dangerous for them.
DeBoer's Auto loves pets and many of our employees travel with their pets all the time. These are some of the tips you can remember the next time you travel with yours, and of course, don't forget the basics like their leash, waste bags, and collar. For more tips like these, feel free to check out our website any time.