Part one of our two-part blog series on phone apps to improve your driving experience focused on utility apps. Now we would like to focus more on apps that can provide entertainment while you're driving. These are especially valuable if you spend a lot of time in the vehicle, whether it's traveling to work every day or going on long trips. There are apps for the entire family to enjoy and make your driving experience a smooth one. Check out these apps that can make any ride in your vehicle more enjoyable for everyone.
Music Apps
Cars are equipped with radios, but you sometimes have to deal with static and poor service depending on where you drive. And if you are going on a long trip, you have to constantly be looking for new stations as you get out of range of signals. Some of the top radio or music apps you can download to enjoy a seamless music-listening experience include Pandora, iHeart Media, Spotify, or SiriusXM if you're a subscriber. You can connect your phone to play music in your car via the audio jack or through Bluetooth for a smooth listening experience.
Audible App For Listening To Audiobooks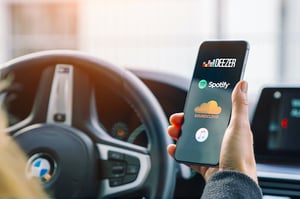 The Audible app is an Amazon product that gives you access to download audiobooks to listen to while driving. If you travel alone frequently, you may get tired of listening to music all the time. Through the Audible app, you can find books in various genres to suit your needs and interests. You can also pursue other apps that allow you to download and listen to audiobooks, but Audible is one of the most popular ones since it offers a wide selection to choose from. Just like with the music apps, you can connect your phone via the audio jack or Bluetooth and enjoy listening to books while driving.
Podcast Apps
Podcasts are increasing in popularity to the point where you can find one no matter what your interests are. Whether you like listening to people talk about sports, politics, food, vacation spots, or anything else, downloading a podcast app can be your source of entertainment while driving. Podcatcher and Beam Player are popular apps where you can download podcasts or use the standard one that comes equipped with the iPhone if that's the type of phone you have.
DeBoer's Auto loves utilizing the latest technology in vehicles. Whether the technology is used to help maintain vehicles or provide entertainment while driving, we stay up-to-date with the newest products. These entertainment apps can make your driving experience better no matter how frequently you drive. Music, audiobooks, and podcasts can be enjoyed by the entire family when you go on trips, so have the apps downloaded and ready to go whenever you need them. And if you have any questions or would like more tips to improve your driving experience, contact us at any time, and we would be happy to talk to you about our favorite apps.