A new law has recently passed that we would like to inform all drivers about if they haven't heard of it. It's the Safe Passing Law and it's designed to keep the roads safe for pedestrians, bicyclists, people on scooters, skateboards, or anything else. There have been too many accidents involving these people over the years, so the new law is in place to keep them safe and provide guidance for drivers who approach them.
Give Pedestrians At Least Four Feet When Passing Them
When you approach someone on the side of the road, you should ideally switch to another lane to be as far away from them as possible. However, sometimes you can't or there isn't a lane to switch to, so the Safe Passing Law states you should give them at least four feet of clearance when passing them. It provides just enough room to ensure you can drive your vehicle safely while the pedestrian also doesn't have to worry about your vehicle being too close.
What If You Don't Have Enough Room To Give Them Space?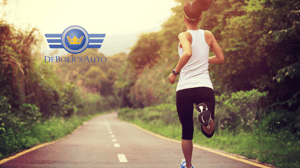 Sometimes you might be on a tight road and can't give them the four feet of space that's required by law. In these situations, you have to reduce your speed to 25 miles per hour or less and pass them when it's safe to do so. As a driver, you always have to be looking out for bicyclists or pedestrians so you can safely reduce your speed at the right time when approaching them.
Consequences For Not Following The Safe Passing Law
Not following the new guidelines in the Safe Passing Law can result in a $100 fine, but no points on your license. However, if you violate the law and end up hurting someone in the process, you could face a $500 fine and get two points on your license. No one wants to have to deal with these consequences, especially when following the law keeps everyone safer on the roads.
As we enter the summer months, more people will be spending time outdoors and maybe walking or biking to different places instead of taking their cars. It's important to always be on the lookout as a driver so you can safely reduce your speed or move over without endangering anyone else in the process. Rural communities often don't have sidewalks, so pedestrians and cyclists have to use the streets. While it is their responsibility to use the streets safely, drivers also have to be conscious of them. For more information or for other tips regarding your vehicle, don't hesitate to contact us at DeBoer's Auto at any time.