DeBoer's Auto is proud to have expanded our services with our new fleet and truck center. Anyone who has driven by our shop has likely noticed some activity going on, which is all to better serve our customers. We understand with any changes that occur come plenty of questions from existing and potential customers. We would like to answer some of the most common questions we have received over the past few weeks as it relates to our new fleet and truck center.
What Types Of Trucks Will We Work On?
This is one of the most common and understandable questions we have received recently. The fleet part of it pertains to salespeople who are out in smaller fleet vehicles like drug reps or service personnel. We have seen an increase in customers with this type of fleet work, which will now be serviced at our new fleet and truck center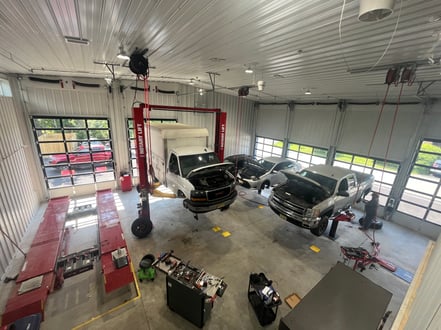 As far as trucks go, we can handle up to class 4 and 5 vehicles in our new fleet and truck center. You might recognize these as mason dumps, landscaping trucks, Mercedes Sprinters, Dodge ProMasters, and others. We can service large vehicles with the 20' ceilings that make it easy for our professionals to work on even some of the larger commercial trucks. We will also be able to provide a much better service experience for our customers as a result.
Do we Work On Both Gas And Diesel Vehicles?
We can work on both gas and diesel commercially-registered vehicles for our customers in our new fleet and truck center. If you have any questions about whether we can work on your specific vehicle, feel free to call our shop and we can confirm or refer you to a larger truck shop. We can easily handle class 4 or 5 vehicles and vehicles that weigh anywhere between 16,000lb to 20,000lb.
Will we Only Work On Commercial Vehicles?
Our new fleet and truck center is designed to handle large commercial vehicles. But we will still handle regular-sized trucks as we normally have. When you bring your truck to our shop, we will decide whether we need to work on it in our regular shop or if we need larger equipment at the fleet and truck center. You won't have to worry about anything and our professionals will handle your vehicle in the best manner possible.
DeBoer's Auto is very excited about how much our new fleet and truck center will improve our service to our deserving customers. If you have any other questions about our shop or fleet and truck center, don't hesitate to contact us at any time.