NOW through April 15, 2021.
One of the things we know about living here in the northeast is we experience all kinds of weather conditions and challenges while driving, all while hoping the winter will in fact end and that spring will bring warmth and sunshine. What we also experience is that when the piles of snow do indeed melt, we are left with some serious damage to our roadways. Crater-sized potholes that threaten to suck us into the abyss. The uneven pavement and unexpected knock when you hit one of those is a jolt to your nervous system, not to mention your vehicle's suspension,
sometimes leaving behind a noticeable difference to your vehicle's ride. No longer smooth, a bit bumpy ride can cause navigation problems, and affect your driving enjoyment.
The wear and tear brought on by the miles and conditions should make you think about your front and rear shocks and struts being in need of replacement.
Your vehicle's manufacturer suggests having your suspension check and struts and shocks replaced between 75k and 100k miles. After replacement, you will be surprised how your vehicle will handle and that your vehicle will feel like new while driving it.
Now is a good time to take advantage of the KYB "Feeling is Believing" promotion, where you can earn up to $75 back on your qualifying purchase. This offer is available NOW through April 15, 2021.
Even with the smoothest rides and no incidents with the dreaded potholes, the best thing to do is have one of our certified ASE technicians take a look at your vehicle.
The Feeling is Believing promotion gives you the opportunity to earn up to $75 back on your purchase of KYB products. This makes it easier for you to restore or upgrade the handling and control capabilities of your vehicle and feel the difference with new shocks.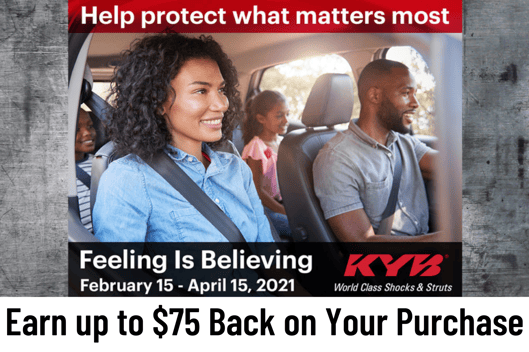 With the purchase of 4 KYB shocks, struts, or complete assembly you can earn prepaid MasterCard rebates: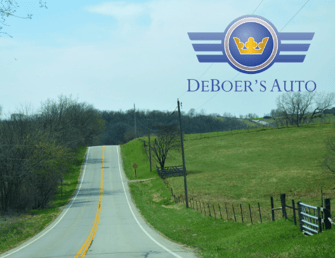 $25 Back with spending of $125 - $300
$50 Back with spending of $301 - $500
$75 Back with purchase of $501 +