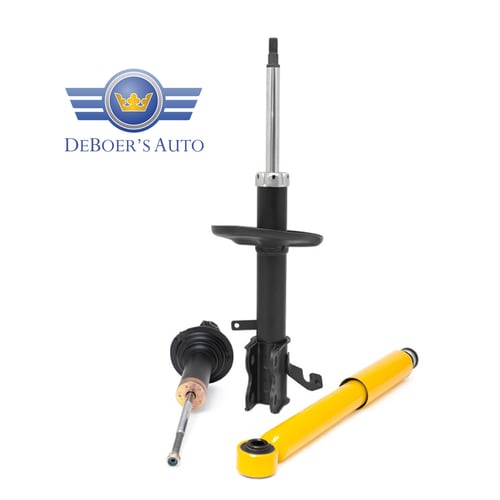 You've probably heard the terms shocks and struts, but you may not be sure what are car struts and shocks. These important components are part of your suspension system and designed to keep the wheels in contact with the road for greater stability and a smoother ride. While you may not have the ability to change them yourself, it's important to learn when to replace shocks and struts so you can take your car in at the appropriate time.
What Are Shocks and Struts?
While a larger number of people know what shocks are, struts are often unclear. Shocks and struts reduce the bounce of the springs installed to absorb the shock of hitting bumps or potholes in the road. Too much bouncing can result in loss of control and excessive wear and tear on your vehicle. This is why it is so important to learn when to replace shocks and struts to ensure safety when using your vehicle.
What Is the Difference?
While struts and shocks perform a similar function, there is a difference between the two. Shocks are cylindrical and exposed, designed to absorb the shock from the leaf springs. The struts, on the other hand, are encased in a complex coil spring mechanism and absorb the shock from the coil springs. Shocks are typically less expensive and easier to replace than struts, which require the assistance of a mechanic.
What Happens When Your Shocks or Struts Need Replacing?
Your shocks and struts play a major role in your ability to drive safely. For instance, a worn suspension system will bounce more, often resulting in bottoming out your car, which can cause damage or a loss of vehicle control. Your car may also bounce forward when you brake or rock side to side when you turn corners. You will also experience a bumpier ride than you're used to. Each of these problems may seem like a simple inconvenience, but they can be a safety issue. In fact, excessive movement with your car can cause you to lose control, which could result in an accident.
Knowing when to replace shocks and struts is important, even if you aren't sure what they are or what function they serve. Fortunately, many of the signs of wear and tear on these components is noticeable when you drive, allowing you to identify the need for a mechanic. While some car owners are successful in replacing their shocks, struts are often more complicated and require the assistance of the professionals to ensure proper installation and a safe ride.
If you think your shocks or struts may need to be replaced, contact us. Our Sussex County repair shop can provide the service you need to restore a safe, comfortable ride.