A New Jersey state inspection is required for every vehicle that drives on the road. With proper maintenance and care of your vehicle, passing the state inspection is usually not an issue. However, when you fail an inspection, you may have to deal with more consequences than just simply getting the issue fixed by a repair shop and getting it re-inspected. There are timing issues to consider, as well as possible ramifications when you decide to sell your vehicle. Here's what you need to know about a failed New Jersey state vehicle inspection and how you can ensure you always pass the inspection.
Consequences If You Choose To Sell Your Vehicle
Any time a vehicle fails an inspection, it gets reported and recorded at the state. When the company performing the inspection enters the information, it automatically gets reported so that nothing can be withheld. Then the state of New Jersey sells the information to Carfax, so any time the Carfax report is run on your vehicle, the failed inspection will show up. This could bring consequences if you choose to sell the vehicle at any time since a prospective buyer will want to know why the car did not pass the inspection.
An Emission-Certified Repair Facility Must Perform Repairs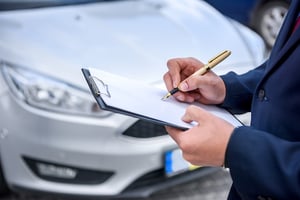 After a failed New Jersey state inspection, you have to have the repairs completed by an emission-certified repair facility in order to pass the inspection. Not every repair center is equipped to handle the repairs required to pass the New Jersey state inspection, but DeBoer's Auto is. Taking your vehicle to an emission-certified repair facility to perform the inspection is ideal since any issues can be fixed properly right away, so you don't have to run into any timing issues with getting a passing inspection.
Grace Period For Failing An Inspection
The grace period for failing an inspection, getting the repair completed, and having the vehicle re-inspected is often misunderstood in New Jersey. The regulations state that you have 30 days from the date on your inspection sticker to have any repairs done and your car re-inspected. However, you won't be able to take advantage of the grace period if you do not have your vehicle inspected initially within that window. So if you wait until 60 days after the expiration date on the sticker, then you forgo your grace period, and if your vehicle fails inspection, repairs must be done immediately. The consequence could mean getting ticketed and having to pay a fine.

Vehicles should always pass their New Jersey state inspection if they are properly maintained. At DeBoer's Auto, we can help you schedule regular maintenance to ensure your vehicle is always in great shape and operating properly. And if your vehicle does fail its inspection for any reason, you can have peace of mind knowing we are an emission-certified repair facility and can fix the problem. We are here to help keep you moving, so contact us today to schedule your state inspection, repair, or to get on a regular maintenance schedule.