Peanut butter Cream Pie

1 graham cracker pie crust.
Combine: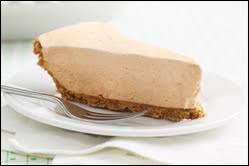 1 block of cream cheese(softened),
3/4 cup of sugar,
1 tub(8oz) of cool whip,
1 cup of peanut butter.
Blend all together & pour into pie crust, refrigerate a few hours. ENJOY!!
When it comes to repairing vehicles, trouble shooting and diagnosing problems with your vehicle Corey is just the MAN.
To top it off - He likes to create in the kitchen.. Who knew?
He never stops amazing us!