Cars can create a lot of emotions for people. In some ways, they are an extension of your personality when you think of your car's color and style. It connects you to many things you have to do throughout the day, and you may spend hours in your vehicle every day. While positive emotions are common when the vehicle is running smoothly, those emotions can turn negative quickly when it breaks down. Instead of making an emotional decision to get a new vehicle in these situations, be patient, and follow these tips.
Emotional Decisions Could Be Costly In The Long-Run
Too many people make the mistake of selling a perfectly good vehicle just because they don't want to pay a couple of thousand dollars in repair bills. They only see the immediate sting of the repair bill and make a rash decision to sell it for whatever it's worth and get into a brand new vehicle. The best thing to do is to be aware of your emotions and slow the process down so you can make the right decision. Seek information from experts to determine how extensive the damage is and what you can expect from the vehicle in the future if you decide to keep it after it's repaired.
Evaluate Your Long-Term Vehicle Ownership Goals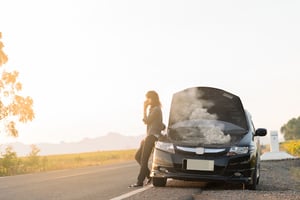 If your goal with your current vehicle is to keep it as long as possible, then you have to expect repair bills will arise occasionally. It's still human nature to be a little shocked when you see high repair bills, and it's tempting to move on from the vehicle and get into a new one that won't cause as many unexpected issues in the near future. The important thing is to keep your long-term vehicle ownership goals in mind when you're deciding to repair a vehicle versus replacing it. Immediate emotions can often lead you to make decisions you regret later, so be patient and evaluate all options before making an informed decision.
Compare Repair Bills With The Cost Of A New Vehicle
Most of the time it doesn't make sense to buy a new $40,000 vehicle when the problem with your current vehicle will only cost $5,000. Of course, this depends on the vehicle's age and current value, but your auto technician can provide insights into this aspect to help you make the right decision. In most situations, you will come out better financially by paying the repair bill instead of buying a new vehicle, even though it may sting to pay such a high repair cost for an older vehicle.
Anxiety is known for clouding judgments and can cause you to make rash decisions that go against what you truly believe is logical. Take your time to get good information from all parties involved and make your decision when you're confident you have all bases covered. DeBoer's Auto is here to help you by providing insightful information on how much life is left in your vehicle after a breakdown that requires extensive repairs. We are here to help you make an informed decision and get you back on the road as quickly as possible, so contact us today if there's anything we can assist with.