When you are thinking about remodeling or giving your bathroom a fresh new look, a custom glass shower door is the centerpiece of these types of renovations. We learned about a niche local business that has taken custom shower doors to a whole new level.

We're spotlighting Superior Shower Doors in Newton NJ.

Meet Michael Lawlor, the owner, and operator, and listen to how
he's grown this specialized business through the years.
Superior Shower Doors is going into its 20th year of serving our Sussex County community, as well as many homes and business throughout the state.
Let's take you back to the beginning:
Michael Lawlor was a construction worker in his early twenties in Sussex County.
He sweated, hammered, and nailed his days away building new structures and renovating old ones.
He honed his craftsmanship through many hours doing roofing, siding, framing, and just about anything involving manual labor in the trades. He worked hard physically and mentally, to provide for his wife and children. As his young family grew, Mike decided to look for steady employment that would help provide benefits and more stability.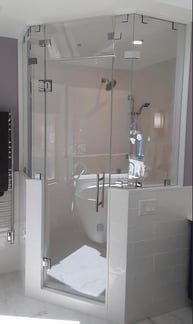 In 1997, not long after the birth of his daughter Matisse, he answered an ad for a local shower door company. He spent his first three years using his skills and knowledge to build shower doors and the next three years on the road as a company installer. As he gained expertise, he saw the need for a more personalized experience with clients requiring custom shower doors.

In 2003, he decided to go out on his own. He bought a van, gradually hired 2 employees, and put up a showroom on Spring Street in Newton.

There were times throughout the early years, that other family members worked in the business, both installing and in the showroom. Within the first 4 years, Mike had two of his brothers, two brothers-in-law, and two sisters-in-law all helping get Superior Shower Doors off the ground. To this day, Mike's son Dane helps out on installs when he's available. The support of his family was crucial to helping Mike make his vision become a reality.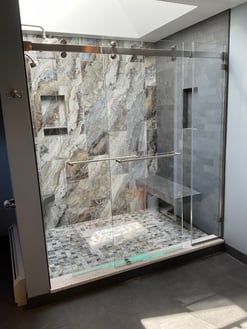 Custom shower doors and glass grew to custom mirror installations, and with their reputation of design and installation knowledge, many people's needs dramatically increased.
Their client base started as residential owners wanting their bathroom remodeled to commercial businesses requiring specialized glass, including storefronts, customized partitions, curtainwall, and interior office glass. Now, Superior's highly desired products include table tops, glass railings, glass partitions, custom glass wine rooms, storefronts, and much more.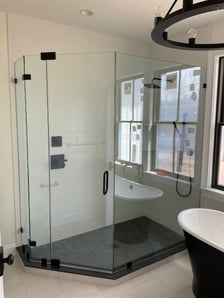 The commercial aspect has grown, and there are many companies looking for high-volume and high-end glass. Superior has commercial crews working year-round on high rises installing frameless shower doors in Harrison, Newark, and Jersey City, yet still maintain their home here in Sussex County.
Take a walk down the bustling new storefronts on Spring Street in Newton, and you'll get a glimpse of how they have been helping the new business owners entice and attract customers with their beautifully installed entrances.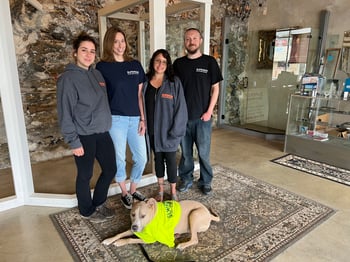 Superior's current showroom and office at 262 Spring Street in Newton has been a wonderful place for the last 18 years to come and learn about all things shower doors. When you walk in, expect to be greeted with a smile and someone who wants to make your dreams and visions of a glass enclosure a reality.
As of this writing, Superior Shower Doors has begun designing a new showroom and office space with a new facility down the street from their long-time location.
Change is inevitable, and it's been a long-overdue move to keep up with the pace of everyone's glass needs.
As of this writing, Superior is in the process of rebranding as SSD Glass, to position themselves more accurately as a glass and glazing outfit. Their new place of business at 15 Hampton Street in Newton is an exciting step for them, with adequate room for their shop, their offices and new showroom, and room to expand.

They now have ten installers and 5 office employees and are always on the lookout for new talent to help them grow their operations.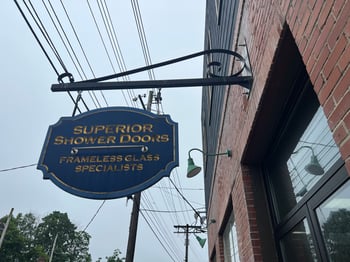 Yo
u
can reach Superior Shower Doors at 973-948-2111,
Superior Shower Doors
15 Hampton Street
Newton, NJ 07860
(973) 948-2111