While you are driving throughout Northern New Jersey, Sussex County, and the West Milford area you have probably noticed the many vans or trucks bearing the Mark Lindsay and Son Logo, the guy with the plaid shirt and overalls. Mark Lindsay and Son Plumbing Heating Inc is an icon in the area. It's not just because of their recognizable logo you see driving up and down the Route 23 corridor. It's because they are a service provider built on family values, and their reputation is known throughout the area and the industry. They are now on their third generation of the Lindsay family providing superior service to our community. We had the opportunity to learn about the operations of Mark Lindsay and Son Plumbing and Heating and how they've built and expanded their business over the years.
It all started with John Lindsay back in 1962. John's original business was based out of his home in West Milford, where he converted a barn for his work truck and materials. In 1970, the business grew with the help of his sons, and the business was moved to a facility in Hewitt, NJ.
The core of John's vision was his customers. Treating them like family, attention to detail and delivering the best service possible to help them through their plumbing and heating needs. John was never deterred by inclement weather because he wanted his customers to be comfortable, as he would his own family.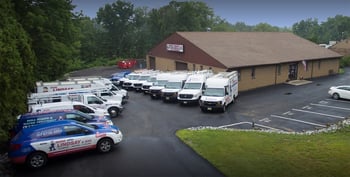 Today Mark Lindsay and Son remains family-owned and operated by his son, Mark Lindsay. Since 1993 Mark has been leading and growing the company. In 2014 they moved to the state of the art facility in which they now reside in Newfoundland. There you will find the legend lives on, and the Lindsays are carrying on the family business' focus on being the number one Heating and Plumbing operation in the industry. They are always focused on keeping up with the latest technology and industry advancements, which helps assures that they are focused on bringing the best of their customers.
Mark knows that having the best people in place makes the business operations run smoothly. He relies heavily on his son, also Mark, and his daughter Miranda to make that happen. The culture of their business is family first. They have a team of approximately 50 employees, and many have been working and growing there for decades. If you are part of the team, well, then you are part of the family. They are strong and supportive of each other and they encourage each other to grow professionally and personally. The focus is always on the customer. They believe that the human touch is of utmost importance to their customers. Should you call out to them day or night, you'll get a live person. They want to assure you that help is on the way and that the help you are receiving is professional, capable, courteous, and focused on making you as comfortable as possible as quickly as possible. Their technicians are available to immediately resolve any emergency, 24/7. They maintain the highest standards of quality staff. Their technicians and installers participate in ongoing training to bring the best service to their customers.
Their motto is "Our Reputation is Your Guarantee"! You are guaranteed they will do all they can to see you are satisfied.