What do you call it when you get to do what you love and completely love it?
A Blessing.
Blessings in the Batter seemed like the most fitting name for the mother and daughter baking team of Joyce and Lisa.

Joyce, (mom of the duo) turned to the kitchen for inspiration. The moment she got the ingredients and tools out she would start to create and focus on something wonderful. She would think of times baking in her mother's kitchen, and the wonderful memories.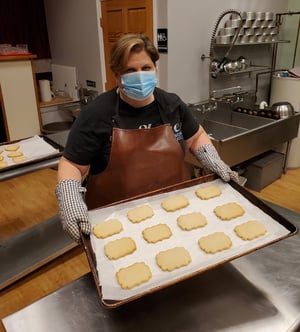 Joyce has an entrepreneurial spirit, she's been successful in professional endeavors. Her success is due to her dedication and hard work. She's a wonderful person, who is easy to talk to, beautiful on the inside and out, vibrant, smart, and pretty darn funny.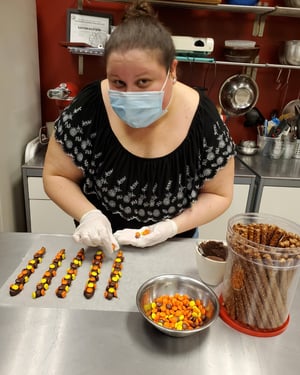 Lisa has learned a lot from her mom. She is fast thinking, hardworking, funny, and creative! Sometimes they work quietly and other times they chit-chat, laughing and collaborating as they create.
While the world was facing the Covid 19 pandemic Joyce and her family faced some struggles of their own. Her sister Nancy became ill and was then hospitalized for a long period of time. They would visit and then relied on Facetime for their time together. Nancy would always mention how much she appreciated the care she received from the staff. She had a way of winning over everyone with her loving spirit and witty sense of humor, even through her illness. She was so appreciative and wanted to extend her gratitude to the staff so Nancy asked Joyce to bake something special for the staff as a token of appreciation.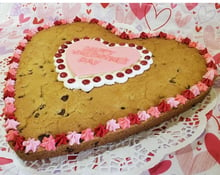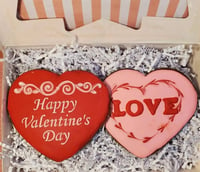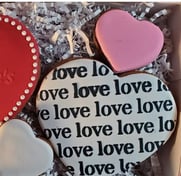 Joyce of course got busy baking and made a special order of chocolate chip cookies. She wrapped each package with bows and notes expressing Nancy's appreciation. The cookies were a huge success! Joyce got more joy out of delivering these goodies than she would have ever imagined.
Joyce and Lisa decided to devise a plan. Sometimes strategies don't always go as planned, and Covid 19 hit and the world had to quarantine. Joyce and Lisa wanted to spread some love and joy to friends in the area during this time, so they baked platters of cookies and packaged them and began to "spread a little love". They placed the packages on the doorsteps, rang the doorbell, ducked back into the car, and watched. When the door was opened and their family and friends would get the goodies, "Oh, the joy that was on their faces, was priceless!" They did this for every delivery, the reaction was always worth it. They received great feedback on how delicious the cookies were. Many recipients expressed how much the package had brightened their day.

Later that year they coordinated with some vendors that did "pop-up" craft and food shows. Their items would sell out and they started getting orders from those who received the sweet blessings on their doorstep. Joyce kept experimenting with recipes. She had the perfect recipe for the dough and from inspiration on YouTube she began to expand her creativity.

The excitement grew to the point that they wanted to "Start the business" They worked hard and furious to find out how to make this happen. They formed their LLC and acquired a commercial kitchen. They have a nice following on social media which continues to grow. Their Sugar Cookies are their signature item, along with Chocolate Dipped Oreos, Chocolate-Covered Pretzels, and Cookie Platters.
They are enjoying this journey. They've found something they love and are really good at. All the while they get to meet some amazing people. Every time they receive a call from a customer placing an order, they get so excited that they actually do a happy dance!

Joyce and Lisa work alongside each other, finishing each other's sentences, laughing and just enjoying the business they have built side by side. They love collaborating on ideas with their customers and making dreams come true.

blessingsinthebatter@gmail.com
https://www.facebook.com/Blessings-in-the-Batter-LLC-104484728699889
https://www.instagram.com/blessings_in_the_batter/
Tiktok @Blessings_in_the_batter