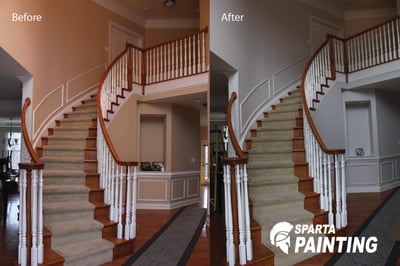 We recently had the opportunity to speak with Bryan Murphy, the owner of Sparta Painting.

Bryan has successfully been a business owner in Sparta since 2018. He's at home and loves the people and the atmosphere the little town on the lake provides.

An opportunity arose in late 2020 for him to purchase this successful business from John Wilson who started the business in 2005. John Wilson decided to retire and move down south. One of Bryan's colleagues, interior designer Lisa Delorenzo, thought this would be a great opportunity for Bryan. She was 100% correct. From day one, Bryan and his crew have found running this business to be an exciting and rewarding journey.

Bryan is no stranger to hard work or the ins and outs of contracting. His father was a builder, painter, and contractor by trade. As a teen, Bryan spent many summers and vacations as a second-hand to his dad, learning the skills needed to tackle many contracting obstacles, and the integrity of being a hardworking and honest businessman.

Since the pandemic, his customers have done a lot of thinking about refinishing their homes as opposed to buying new. The demands on materials have grown, and the cost has increased, as those materials are now harder to obtain. Oddly, this has not affected the cost of paint as largely as other supplies, which has made his customers consider painting and refinishing. It's amazing how some new paint, a couple of repairs, or a stain job can make it feel like new again. This has given them more enjoyment in the areas that they spend more time in, now that everyone is spending their time at home.

Sparta Painting offers premium painting services throughout Sussex County
Their services include:

Interior and Exterior Painting
Deck Refinishing
Furniture Restoration
Epoxy Flooring
Wallpaper Removal
"Occasionally our price may be higher than others, but our cost never is. The bitterness of poor quality remains long after the temporary sweetness of a lower price is forgotten. The value of trusting your investment with Sparta Painting shows for years, as hundreds of previous customers will attest. They understand that quality cannot be compromised, or replaced."
Sparta painting has been in business in Sparta, NJ since 2005; they are fully licensed, insured and they take pride in everything that they do. They show up on time, do not cut corners, and make sure that they take the time to do the job right the first time. This guarantees not only a great-looking job now, but one that will last.
Sparta Painting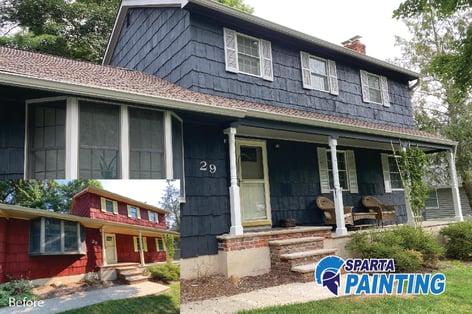 They've been taking the "pain" out of pain out of painting since 2005