Flushing out your automatic transmission is a service you should do regularly to keep your transmission alive and operating without any problems. If you don't stay on top of this service, you could end up spending a significant amount of money in the long run when you have to get it replaced. We always recommend that our customers get a transmission fluid flush according to the manufacturer's recommended timeline and here are some of the reasons why and how we do it.
Transmission Fluid Is The Lifeblood Of The Transmission
Transmission fluid is what makes the transmission run. Since the transmission is very costly to replace, we want to do everything we can to ensure that doesn't have to happen. The easiest thing to do is to have your transmission fluid replaced regularly. Other minor issues could happen as well, but your mechanic should be able to identify those ahead of time and solve the problem before it leads to needing a new transmission entirely.
How DeBoer's Auto Flushes Your Transmission Fluid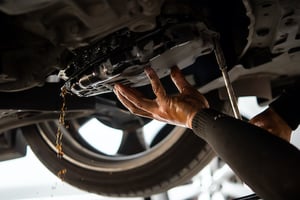 The transmission service that we provide is a 100% fluid exchange. We hook up a special machine that takes out the old fluid and puts in new fluid at the same time. It acts similar to a blood transfusion, but it's for transmission fluid for your vehicle. The dirty and broken down oil and transmission fluid is removed completely and it's replaced with fresh, new transmission fluid. Another thing we like to do is add a cleaner before the service begins to suspend the debris into the fluid, which ensures that it comes out when we remove the fluid. We also add a conditioner into the new fluid to allow it to last even longer and provide a better driving experience.
Keep Your Car Running Smoothly By Taking Care Of Your Transmission
When you have a transmission fluid flush performed at DeBoer's Auto, you will get the benefit of the Valvoline warranty. This gets you up to $4,000 of warranty coverage if you have the service completed and your transmission fails. You can't lose as a customer when you get a transmission fluid flush. Either your transmission lasts forever without problems or it fails and you'll be covered under the Valvoline warranty.
Contact us today to schedule an appointment to schedule your transmission fluid flush and keep your vehicle running smoothly.