More cars over the years have adopted synthetic oil for good reasons. The average person might not know the differences between synthetic and conventional oil, but it's important information to have so you know exactly what is going into your vehicle. We've provided you with some valuable information so you know your vehicle is getting exactly what it needs to perform properly.
What To Know About Synthetic Oil vs. Conventional Oil
Synthetic oil has been manufactured and chemically altered and goes through a complex process to remove any impurities so you can get a higher level of performance out of the oil. The oil molecules don't break down in synthetic oil like they do in conventional oil.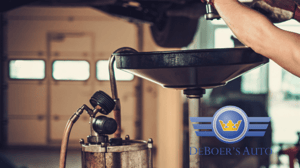 Conventional oil, on the other hand, is much less stable chemically. This means as the oil heats up, it breaks down much faster over time compared to synthetic oil. As a result, many vehicle manufacturers have gone to synthetic oil so they can improve the oil change intervals and so they can say they don't need as much maintenance as they have required in the past. Plus, many newer vehicles are running with turbo systems, which creates a higher heat load and needs to be handled with synthetic oil.
Always Make Sure You Are Getting The Right Oil In Your Vehicle
You need to be careful when taking your vehicle for an oil change. Some auto repair shops will advertise a lower price than their competition for an oil change, but it could actually do more harm than good to your vehicle since they typically use conventional oil. Always ask the repair shop what type of oil they use in vehicles and opt for synthetic when given the choice.
Your Car Is Taken Care Of At DeBoer's Auto
DeBoer's Auto always uses the products and materials that are best for your vehicle. When we inspect and repair your vehicle, we will ensure you don't experience the same problem twice. You can have peace of mind knowing we will use synthetic oil with every oil change we perform so your vehicle will be operating in the best shape possible. Feel free to ask us any questions about our oil change services and we will be happy to discuss any aspect with you.
Oil changes are an important part of the regular maintenance of your vehicle. Using synthetic oil is ideal for just about every vehicle on the road today. When you work with us at DeBoer's Auto, we will help you keep a regular maintenance schedule so you can keep your vehicle operating in the best shape possible. Be sure to contact us today to learn more about our services and how we can help keep your vehicle in great working condition.