Start-stop technology is common in many new vehicles today. If you recently bought a new vehicle and weren't aware it has start-stop technology, you might have been surprised when the car turned off when you stopped at a red light. It can seem like the vehicle stalls out, but it's just the technology kicking in. Whether your vehicle has start-stop technology or if you're thinking about buying one that has it, here are a few things you need to know about it.
What's The Purpose Of Start-Stop Technology?
The purpose of start-stop technology primarily is to save gas when your car would normally spend time idling. This could be at stop signs, stop lights, or even sitting in traffic. When the car shuts down, it doesn't burn gas like it does when it idles. With better fuel economy, the hope is the vehicle will be able to get more miles on it and manufacturers can then meet some of the government requirements put into place.
If your vehicle has start-stop technology, you'll see a symbol on your dash indicating whether the system is on and whether it's working or not. Many vehicles have a button you can push to override the system if you're in an area where you don't want the vehicle to turn off for any reason. This button might not be available in the future on newer vehicles, but if you have it on yours then situations could arise where you might want to override the system.
Underlying Problems With Start-Stop Technology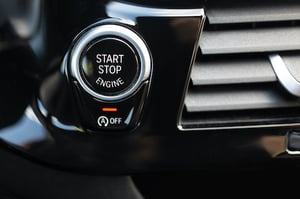 For all the benefits you can experience with start-stop technology, there are some underlying problems to be aware of as well. The biggest one is with the battery system. Any time you have to replace your vehicle's battery, it has to meet or exceed the manufacturer's specifications or your start-stop system won't work properly. Your vehicle might give you a warning sign of a weak battery by either giving you a message on your dash or the start-stop technology might stop working completely.
Another thing to know is there are two batteries in these types of vehicles today. Your main battery is usually under the hood and there's a second battery hidden somewhere in your vehicle to assist the main battery. This one needs to be replaced also periodically.
Service Your Vehicle At A Reputable Shop To Avoid Problems
It's critical to service your vehicle at an auto shop that is trained to know how to fix vehicles with current technology. Unexpected complications can happen if you have your car serviced without regard for advanced technology. DeBoer's Auto stays up-to-date with all of the latest technology and we train our technicians to know how to handle any vehicle that comes into our shop.
For more information about your vehicle's technology or to schedule a service appointment, contact us today.