Well it seems as though we have a little competition going on in the Kays household. You might have tried Josh's recipe for Chili,🍲 (which by the way is killer!) but now his wife Kelly is offering up her recipe and it has a few twists in it. Give it a try and let us know what you think. Maybe you can have a little cooking duel in your own house too! 🌶️
Happy cooking!
INGREDIENTS
Homemade taco seasoning:
1 1/2 t garlic powder1 1/2 t cumin
1 t kosher salt
1 1/2 t chili powder
1 1/2 t paprika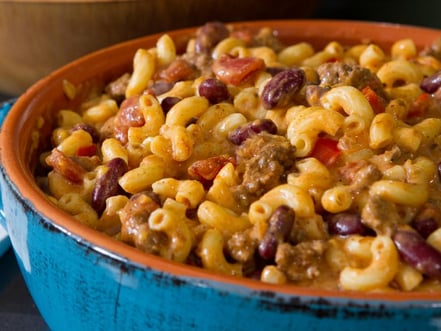 1/2 t oregano

Chili:
1.3 lb lean ground turkey
1 medium onion, chopped
3 cloves minced garlic
1 red bell pepper, chopped
10 oz can tomatoes with green chiles
14.5 oz can pink or red beans, drained
8 oz tomato sauce
1/2 can, 8 oz fat-free refried beans
1 15 oz can chicken broth (reduced sodium)
1 3/4 cups water
8 oz Pasta Shells (Gluten Free or Whole Wheat Substitutes)
3/4 cup part-skim shredded sharp cheddar cheese*
2 T fresh cilantro, chopped
2 T chopped scallions
3T low fat sour cream
DIRECTIONS
Heat a large pot with a fitted lid or Dutch oven over med-high heat, spray with oil,
brown the turkey breaking it up with a wooden spoon as it cooks.
cook through, add onions, garlic, pepper and taco seasoning;
cook 2-3 minutes.
Add canned tomatoes, beans, tomato sauce, refried beans, chicken broth and water.
Bring to a boil, cover and simmer about 15 minutes. Salt to taste.
Stir in the uncooked pasta, simmer uncovered over medium heat until al dente, approx 6 minutes or according to package directions.
Remove from heat, top with the cheese, cover and let sit for about 2-3 minutes, until the cheese melts.
Serve immediately garnished with fresh cilantro and scallions, sour cream.
Thank you Kelly Kays of Newton for sharing this recipe.

We are always looking for some tasty recipes, so please share yours with us.