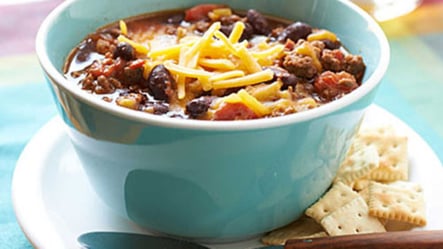 Ingredients
2 1/2 lbs Ground Beef
2 Cloves Garlic
1- 15 oz Can Kidney Beans
1- 15 oz Can Pinto Beans
1 Onion Diced
1- Tsp Ground Oregano
1- 8 oz Can Tomato Sauce
1/4 Tsp Salt
2 Tbsp Chili Powder
1/4 Tsp Cayenne Pepper
1 Tsp Black Pepper
1 Tsp Ground Cumin
1 Block of Shredded Cheddar Cheese
Rice
Direction
Place the ground beef in a large pot and include onion and garlic. Cook over medium heat until brown. Drain fat, pour in the tomato sauce, chili powder, cumin, oregano, salt, pepper and cayenne. Stir together well, cover and reduce the heat to low. simmer for 1 hour stirring occasionally. If the mixture becomes dry add 1/2 cup water as needed. Add in beans, simmer 10 minutes.
Serve over rice, sprinkle with generous amount of shredded cheddar cheese.
Servings ? "it depends on how hungry you are!"