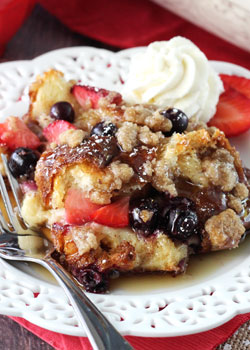 INGREDIENTS
6 large eggs
1 2/3 c. whole milk
1 c. heavy cream
3/4 c. packed brown sugar
1 tsp. ground cinnamon
1 tsp. pure vanilla extract
1/2 tsp. kosher salt
1 loaf white bread, preferably day-old
1/2 c. sliced almonds
1/2 c. powdered sugar, for serving
In a large bowl, whisk together eggs, milk, heavy cream, sugar, cinnamon, vanilla, and salt.
Dunk each bread slice in the egg mixture for 4 seconds, flipping once, then arrange them in a 9"-x-13" baking dish in an even layer, each slice slightly overlapping the last. Pour any remaining egg mixture over bread. Cover and refrigerate, 2 hours, or up to overnight.

Preheat oven to 375°. Sprinkle almonds over French toast and bake until the tops of the bread are golden and crunchy, about 40 minutes.
Topping
1/2 cup sugar
3 tablespoons cornstarch
1/4 teaspoon salt
1/2 cup cold water
1 package (12 ounces) frozen unsweetened mixed berries
2 cups coarsely chopped fresh strawberries or blueberries
In a large saucepan, combine sugar, cornstarch and salt. Whisk in water. Stir in frozen berries. Bring to a boil; cook and stir 1-2 minutes or until thickened. Remove from heat; stir in fresh berries.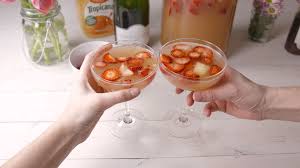 INGREDIENTS
3 cups not-from-concentrate
1/2 cup Cointreau or Grand Marnier, or any orange liqueur
1 naval orange, quartered and thinly-sliced
2 cups fresh strawberries, hulled and thinly-sliced
1 cup diced fresh pineapple
1 (750 ml) chilled bottle champagne, or any dry sparkling wine
optional: ice, extra strawberries for garnish

INSTRUCTIONS
Combine the orange juice, Cointreau (or any orange liqueur), orange, strawberries, and pineapple together in a large pitcher. Use a large wooden spoon to stir and muddle the fruit a bit. Then refrigerate the juice for at least 10 minutes, or up to 2 hours.
When ready to serve, fill the serving glasses 1/3 full of the orange juice and fruit mixture. Then slowly top each glass with champagne until full, adding extra ice if needed and garnishing each glass with a strawberry if desired.
Serve immediately.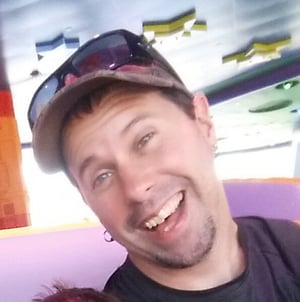 Thanks so much to Tom Ormond for sharing this delicious recipe.
If you have a special recipe and would like to share, please submit along with a photo of you and we would be happy to post it.