Molten Lava Cake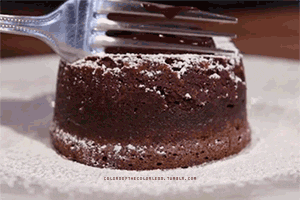 How can you not want to dig into this amazing creation?
This says I love you big time! 💗You even get your own and you are NOT expected to share! Now that's love!! 👩‍❤️‍💋‍👩
Ingredients

2 sticks unsalted butter, plus more for the ramekins
4 teaspoons granulated sugar
1/2 teaspoon ground cinnamon
Pinch of cayenne pepper
Pinch of nutmeg
12 ounces semisweet chocolate, chopped
1 cup all-purpose flour
2 1/2 cups confectioners' sugar, plus more for dusting (optional)
6 large eggs plus 6 egg yolks
1 1/2 teaspoons vanilla extract
1/4 teaspoon almond extract
Directions
1) Preheat the oven to 400 degrees F. Butter eight 6-ounce ramekins and sprinkle each with 1/2 teaspoon granulated sugar.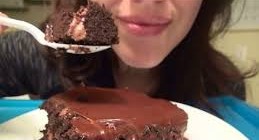 2) Combine the butter, cinnamon, cayenne, nutmeg and chocolate in a saucepan over low heat, stirring frequently until melted and smooth. Cool slightly. Whisk the flour, confectioners' sugar, eggs, egg yolks, vanilla extract and almond extract in a bowl until creamy. Whisk in the melted chocolate mixture. Divide among the prepared ramekins.
3) Bake the cakes until the tops are stiff and the edges darken, 12 to 14 minutes. Remove from the oven and let cool for 5 minutes. Loosen the edges of the cakes with a small paring knife and transfer to plates while warm. Dust with confectioners' sugar.
And Most Important ENJOY!!