When you think about the changes of the season from summer to fall, everyone seems to go gaga over pumpkin spice and apples. For those of you with sweet tooth's, that's great but for some, we (and I mean me) are all about the soups, stews, and hearty, savory dishes. The sweaters get pulled out of the closets, the Dutch ovens and the crock pots get placed on the counter and the delightful dishes of the fall start making their way into dinner rotation.
One of my favorites is a good old French onion soup.
Living not too far from the black dirt region, the onions are perfect for this recipe and I love using ingredients that are grown locally. I love this recipe so much that I never order French Onion soup out anymore and it's so delicious that it is worth the tears.
INGREDIENTS
3 T unsalted butter
4 yellow onions (approx 3lbs), peel, slice thin¾ t kosher salt
8 c beef stock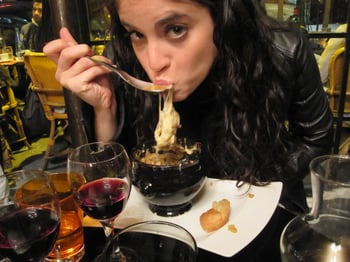 1 c dry white wine
1 T dry sherry1 T flour
½ t black pepper
French bread cut into 1/2-inch slices
1 ½ c Gruyère cheese grated

PREPARATION
In a Dutch oven melt butter over medium heat. Add onions,1/2 t salt, cover, let onions soften for 5 - 6 minutes. Remove the lid, stir occasionally over medium heat, let onions caramelize until tender and golden brown. (approximately 45 minutes)

When onions are caramelized, add wine and sherry to the pot, bring to a boil. Add the flour and allow to thicken for a few minutes.
In a small saucepan over low heat warm the broth. Slowly incorporate the broth into the onions. stir in 1/4 t salt and pepper. Bring to boil uncovered for 10 minutes.
In ovenproof crocks, fill 3/4 (allowing room for bread) with soup, place bread slices on top. cover bread with Gruyère Cheese. Place on a baking sheet and broil for 1-2 minutes until cheese is melted.
Enjoy!
I'm taking credit for this recipe - Even though there should be no doubt that I swiped it from my talented husband.
If you have a recipe you'd like to submit, we'd love to feature it in one of our newsletters.