For the last 7 months, we've been patiently waiting to be able to give you one of our highly anticipated announcements. You may be familiar with our Store Manager, Tina Ormond. Well, she's been busy growing a little human this year, and he's finally decided to make his appearance!

Welcome to the World, Easton Douglas!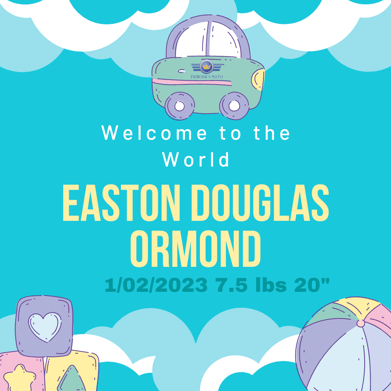 Easton made his appearance on January 2, 2023. Weighing in at 7.5 lbs and 20 inches long, this little guy already has a healthy appetite and is ready to add a little sunshine to the crew at DeBoer's Auto.

We are all excited for Tina and wish her a quick recovery. She will be back around as soon as she's good and ready but hinted it could be just shortly before our Fleet and Truck center opens.

Congratulations Tina and family! We are overjoyed to welcome Easton to the World!