Joe Giannetti joins Hamburg's family-owned car care shop
DeBoer's Auto has begun a new apprenticeship program, consisting of a combination of on-the-job learning at DeBoer's Hamburg shop and online learning through the National Automotive Parts Association (NAPA) training center.
One of the program's main advantages is the ability to get paid while learning at the same time. The program is designed to be completed within 18 to 24 months in nine stages at no cost to the student. As an incentive to progress from one stage to the next, DeBoer's offers an increase in paid compensation as the apprentice reaches each of the nine milestones.
In addition to getting paid to learn the trade, DeBoer's apprentices get the tools they need to work in the trade. Upon graduating from the program, the apprentice gets to keep the tool kit that was provided at the start, which is a requirement for any auto mechanic. And because DeBoer's apprenticeship program has been certified by the US Department of Labor, the graduate will receive an official diploma-like certificate, confirming completion of the program. Further, graduates of DeBoer's program are guaranteed employment at the Hamburg garage.
Although the DeBoer family respects a traditional college education, it acknowledges that not every individual is best suited for that route. "College is not the end-all and be-all as a way to make a living in this world. Apprenticeship is an avenue for people to get paid to learn a highly skilled trade and move forward in life. You can make six figures doing auto mechanics, especially now with all the computer systems installed in vehicles," said Bill DeBoer, the second-generation owner of the automotive shop, following his dad, Bill Senior.
This career field gained new status in the past year. "Auto mechanics were deemed essential during the pandemic. They never got laid off or put out of work," DeBoer said.
To attract its most recent apprentice, the company posted a local job ad, and Joe Giannetti of Wantage replied. Before hire, Giannetti passed a thorough applicant screening, just as any other potential employee would have to do. This assessment included the pinpointing of a positive attitude toward the automotive industry in general and fitting criteria as relates to DeBoer's core values; Giannetti had to be hungry, humble, smart, professional, and committed—these are the principles upon which the company has built its 39-year reputation in Sussex County.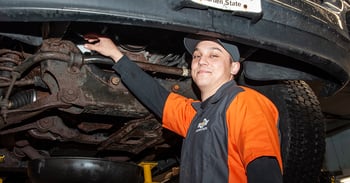 "We're really excited to have Joe and his energy come join our team and help us continue to grow our local business," DeBoer said. Giannnetti, a former Navy serviceman, has already outshined DeBoer's expectations and is working two months ahead of his training schedule.
"I've always been a big believer in growing our industry," DeBoer said. So, the concept of hiring apprentices is not new to DeBoer's Auto. Over the years, the company has hired nearly a dozen students who had been training locally through other programs, like Colleen Lepera who started with DeBoer's 12 years ago while a student at Sussex County Technical School in Sparta and Cory Stock who has been with DeBoer's Auto for the past six years, since he was a student in the Wallkill Valley High School automotive program.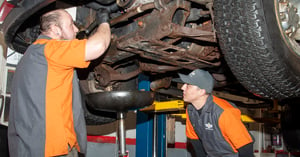 This is the first time, however, that DeBoer's has its own formally structured apprenticeship program where they are offering education, training, employment, and the physical tools simultaneously. It's one that has been put together by NAPA.
In order to ensure the utmost attention to its apprentices, DeBoer will take on only one student at a time. Once Giannetti graduates, an ad will invite new applicants, and the opportunity will be open to all. Those interested can reach out directly to DeBoer's Auto. Contact information is below.
DeBoer's Auto is approved by AAA for auto repairs and sealed by the National Institute for Automotive Service Excellence for all makes and models. Their mission is to help people live life uninterrupted. They provide pick-up and delivery service, loaner cars, an after-hours lockbox, and access to Lyft and Uber when necessary. The shop is located at 83 State Route 23 in Hamburg. Drive-ins are welcome, but appointments are preferred. Call (973) 827-4047 Monday-Friday 8-5.