Grab your fork, this is as yummy as it gets. As American as apple pie and just as delicious! Bill surprised us with this one for sure. It's not only a work of art and pleasing to the eyes, it's really delicious. Who knew he had such
talents in the kitchen too? This is going to go in the books as a tradition around here. If you are over-stocked with strawberries after a fun trip to one of the local pick your own farms, you can substitute the raspberries for strawberries, or if you are a berry enthusiast you can do both!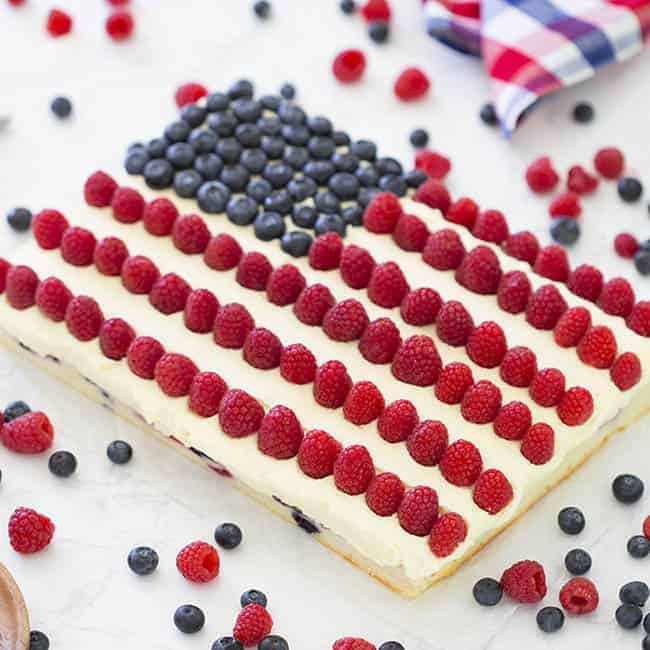 Ingredients:
2 1/4 sticks unsalted butter at room temperature

3 c sugar

6 X-large eggs (room temperature)

1 c sour cream (room temperature)

1 1/2 t pure vanilla extract

3 c flour

1/3 c cornstarch

1 t kosher salt

1 t baking soda
For the icing:

1 lb (4 sticks) unsalted butter (room temperature)

1 1/2 lb cream cheese (room temperature)

1 pound confectioners' sugar, sifted

1 1/2 teaspoons pure vanilla extract
To assemble:

2 half-pints blueberries

3 half-pints raspberries or strawberries
Directions:
Heat the oven to 350 degrees F.
Butter and flour an 18 x 13 x 1 1/2-inch sheet pan.
Cream the butter and sugar in the bowl of an electric mixer using the paddle attachment on, until light and fluffy. Reduce to medium speed, add the eggs, 2 at a time, then add the sour cream and vanilla. Stir until smooth.
Sift together: flour, cornstarch, salt, and baking soda in a bowl. With the mixer on low speed, add the flour mixture to the butter mixture until just combined. Pour into the prepared pan. Bake in the center of the oven for 20 to 30 minutes, until a toothpick comes out clean. Cool to room temperature
.
For the icing:
Combine the butter, cream cheese, sugar, and vanilla in the bowl of an electric mixer fitted with the paddle attachment, mixing just until smooth.
Spread three-fourths of the icing on the top of the cooled sheet cake. Outline the flag on the top of the cake with a toothpick. Fill the upper left corner with blueberries. Place 2 rows of raspberries or strawberries across the top of the cake like a red stripe. Put the remaining icing in a pastry bag fitted with a star tip and pipe two rows of white stripes below the raspberries/strawberries. Alternate rows of berries and icing until the flag is completed. Pipe stars on top of the blueberries.
Enjoy!
Do you have a recipe you would like to share,? we would love to include it in one of our articles.