This old favorite Salmon recipe came from a 1996 Bon Appetite Magazine.(they are no longer in print and we haven't been able to find an on-line site) The Salmon is delicious the and tomato vinaigrette dressing is amazing on the salad. Great for a small dinner party easy to prep ahead of time.
For spice mixture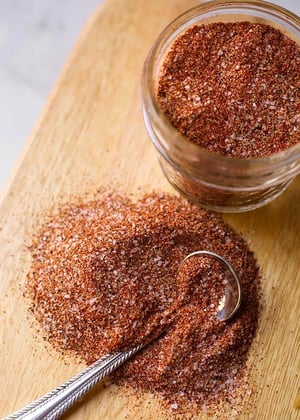 2 tablespoons chili powder
1 tablespoon salt
1 tablespoon sugar
1 tablespoon onion powder
1 tablespoon garlic powder
1 teaspoon ground cumin
1/8 teaspoon cayenne or to taste
6 six-ounce pieces salmon fillet
1/2 cup tomato vegetable juice
2 tablespoons balsamic vinegar
1/4 cup olive oil
1/3 cup finely chopped seeded peeled vine-ripened tomatoes
1/2 pound mesclun (mixed baby greens)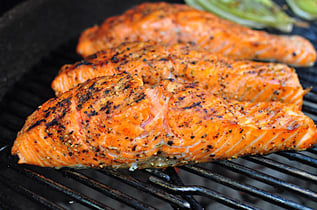 Make spice mixture:
In a small bowl stir together all spice mixture ingredients and reserve 1 1/2 teaspoons for vinaigrette. Divide remaining spice mixture among salmon pieces, rubbing into fish and arrange fish in one layer on a shallow dish. Chill fish covered 2 hours.
Prepare Grill
In a bowl whisk together tomato vegetable juice, vinegar and reserved spice mixture and add oil in a stream, whisking until emulsified.
Grill fish until just cooked through, about 5 minutes on each side.
While fish is cooking, in a bowl toss tomato and mesclun with enough vinaigrette to coat lightly and divide among 6 plates and pour remaining vinaigrette around each serving.