Having a clean and shiny vehicle to drive every day can make you appreciate your car more. Many vehicle owners run into the problem of not having enough time to clean their car as much as they would like. And if kids or pets ride in the vehicle, it's a constant battle to keep it clean. The good news is that there are some simple ways to quickly improve your vehicle's appearance and keep it looking great.
Complete Professional Detail Job
An annual professional detail to your vehicle is highly recommended. This includes a thorough cleaning and detailing inside and outside of your vehicle. You can plan for the time of year you wish to have it done and for budgeting purposes, the cost is roughly $300 for a small car and up to around $500 for larger vehicles. The cost is worth incorporating into your budget to have a nice and clean vehicle every year.
Monthly Car Wash Subscription
Monthly car wash subscriptions usually pay for themselves if you go a couple of times each month. It's especially important to go through the car wash frequently during the winter months when road salt may be present so you can wash it off as soon as possible. With a monthly subscription to a popular car wash company, you can have multiple options on your daily route to go through it quickly on your way to or from somewhere.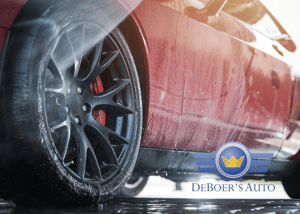 Use Car Tire Foam
Many vehicle owners focus on the body of the vehicle and the interior but neglect the tires. Keeping a can of tire foam handy is ideal, so you can always have shiny tires. Make it a point to put on a coat of tire foam on your tires after going through the car wash. Not only will it bring some life to your tires from an appearance standpoint, but it also helps prevent sun damage.
Keep Your Glass Clean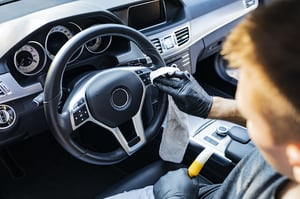 Keeping your windshield and side windows clean can go a long way in making you feel confident driving your vehicle. The outside of the windows will get cleaned when you go through the car wash, but you also need to clean the inside periodically. They can get a filmy buildup, and all you need to use is a standard glass cleaner with a soft cloth to clean them up.
Use A Paintless Dent Removal Service
A paintless dent removal (PDR) service can be valuable to have available to remove the dings and dents you can get over time. Whether it's another car door hitting yours or a shopping cart running into it and chipping the paint, a PDR service can repair and restore the area, so it does not eventually rust.
Keep Touch-Up Paint Available
You can go online and find the exact paint color for your vehicle and purchase a can of touch-up paint. If you notice where the paint is starting to flake or chip in any areas of the vehicle, hitting it with some touch-up paint will protect the metal and prevent rusting.
DeBoer's Auto enjoys helping customers drive vehicles they can be proud of. Be sure to contact us to see how we can help repair, restore, and improve your vehicle's appearance.