Winter weather will be here before you know it, so now is the time to start preparing your vehicle. The last thing you want to happen is getting stranded in your driveway and not being able to go to work because of a dead battery or having to wait for several minutes for the windshield to defrost. There are plenty of other safety concerns to be aware of as well when it comes to driving during the winter. We've got you covered with five ways to prepare your vehicle for the winter months.
Consider Winter Tires
Having winter tires on your vehicle can provide the traction you need to keep your vehicle stable on the road. Snow and ice can make it difficult or almost impossible to drive safely without winter tires. Even cold days without snow and ice can create traction issues because the rubber compound hardens on the cold surface and reduces traction. Your vehicle's suspension is also sometimes a cause for concern because the more your car dips while driving, the better the chances are of locking up your tires when you have to use the brakes on a slick or frigid road.
Visibility Concerns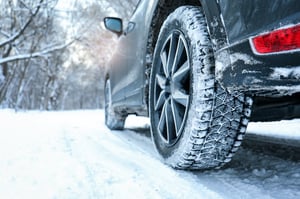 Inspect your windshield wipers before winter weather arrives to ensure they are in good enough shape to wipe away snow and ice while driving. It's also important to ensure your high-beam and low-beam lights are working properly so you can drive safely at night during a snowstorm. Consider investing in a quality wiper fluid that won't freeze in frigid temperatures and may even help de-ice the windshield.
Check Antifreeze Levels
Your antifreeze and coolant levels need to be sufficient to begin the winter months, and always monitor the levels throughout the winter. Antifreeze can degrade over time, and when people add water to it, they can dilute it to the point where it won't be nearly as effective. Not only does antifreeze help your vehicle operate properly, but it can also keep you comfortable inside the car with proper heating.
Test Your Battery
Cold mornings and days can make things very difficult for car batteries. You want to make sure and have a strong battery for the winter so you won't have to jump it every morning to get started. A good rule of thumb is if your car battery is around four years old, you may want to consider replacing it to get ahead of any issues. If you haven't had your vehicle maintained in a while, now could be a great time to take it to the shop so you can have your battery tested at the same time.
Have A Safety Plan In Place
Make sure your vehicle has a stocked safety kit, including blankets, flares, a safety chain, and even a reliable towing partner you trust to help you when you need them. Accidents are more likely to happen in the winter weather conditions, so knowing what you'll do and having proper safety items stored in your vehicle can help you get home safely.
DeBoer's Auto is here to help ensure your vehicle is ready to go for the winter. Be sure to contact us today to schedule an appointment, and we will get your car in the best shape possible to handle the winter months.