If you are one of the many people expecting a sizable tax return check, the wait can be agonizing, especially if you've already planned how you'll spend that money. If you have decided to use your tax refund as a down payment on a new car, here are five productive things you can do as you wait for your money to arrive.

Learn Your Credit Score
Experts agree before making any major purchase, it's smart to learn your credit score. Your credit score is one of the most important factors a lender will evaluate before deciding whether you are a good candidate for a loan. The better your credit score is, the less interest you'll typically pay on a loan. If your credit score is low, talk to a financial adviser to find out the best, quickest ways to raise it.
Decide on Your Desired Down Payment for a Car
The best way to decide how much of a down payment you should make is to look at your finances and determine how much you can afford to pay without eating up your savings. While a 20 percent down payment has long been considered the "magic number," many people only pay about 10 percent because that's all they can afford. If you do decide to pay only 10 percent up front, look into guaranteed auto protection (GAP) insurance. In case your car is totaled or stolen, it will offset the balance you owe on the car loan versus the lower payout the insurance company will give you due to depreciation.
Determine How Much Car You Can Afford
The right time to ask yourself, "How much of a car loan can I afford?" is well before you begin shopping for cars. This will help you avoid the crushing disappointment when you find out the car you must have is out of your price range. To calculate what you can afford, you'll need to know your monthly pre-tax income, what your down payment will be, expected monthly gas and insurance costs, expected loan interest rate, value of your trade-in if you have one and length of the loan in months. Armed with this information, you can find all kinds of car-loan-affordability formulas and calculators online.
Get a Copy of Your Credit Report
Your credit report includes information about where you live, any criminal history, the types of credit you use, how long you've had accounts and whether you pay your bills on time. All of this data is used to come up with your FICO credit score. Lenders will scrutinize your credit score for auto loan so you should know what they are before applying for a loan.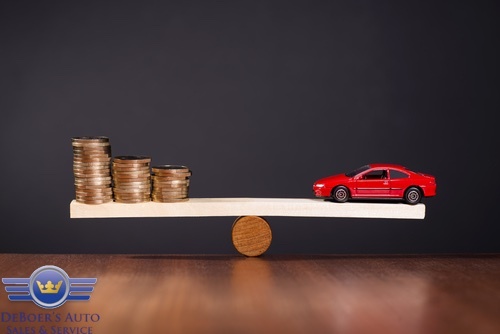 Research Vehicles
Car buying should be based on research, not emotions. Before you shop,identify what features you want in your next vehicle and then do your homework. Go online and evaluate different vehicles' records and customer reviews. Informed consumers make wise decisions. Considering a car is one of the biggest purchases you'll make, ensure you know exactly what you are investing in and are confident it is a good fit for your lifestyle and budget.
Once you are ready to begin looking at cars, contact us at DeBoer's Auto Service and Sales. We have a huge inventory of quality pre-owned vehicles.