Despite the fact half the drivers on the road are women, there's a huge disparity in women's car knowledge compared to men's. We could speculate and debate about the reasons why that's the case. Instead, we at DeBoer's Auto understood the importance of educating women about their cars and decided to do something to help change that. When it comes to any subject, the more you know, the more confident you are. On Saturday, October 27th, we presented a two-hour seminar designed to familiarize women with their cars so they'll be more confident drivers and consumers.
About Our Women's Auto Seminar
In order to provide valuable one-on-one attention to all who attended, we limited the number of attendees to 10. Our students weren't shy about asking questions and sharing their personal anecdotes, and that's exactly what we hoped for when we organized this event. We discussed fluids, filters, belts, brakes and tires; showed them the different physical components of their vehicles; and even demonstrated in great detail how to change a flat tire and jump start a battery, two tasks we learned had previously baffled our intrepid group. Not anymore! Reading a book about cars is one thing. Learning by getting up close and personal is quite another.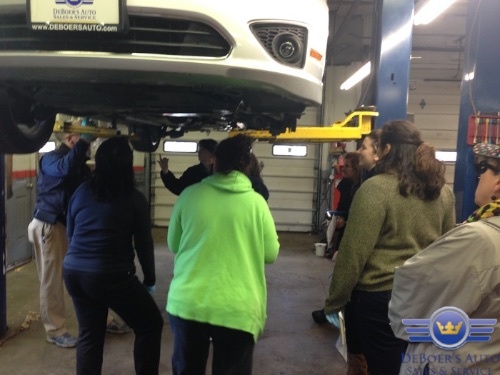 An Eye-Opening, Resounding Success
When we offered this women's auto seminar, we weren't sure what to expect. We didn't even know if we would have enough interest to go through with it. We were surprised and thrilled to learn how many women wanted to learn about auto repair and maintenance. After the seminar, we asked the attendees to let us know what they thought. Here are a few outtakes from the feedback we received:
"I thought I knew so much, boy was I wrong! The material was so valuable and well-presented well ... I didn't feel like a dumb chick that was being talked down to! I'd attend again and a girlfriend of mine is willing to drive up from Jackson, NJ, to attend with me!"
"It was amazing and inspiring; I learned a lot and would recommend it to others."
"Thank you Colleen and Bill for the very informative automotive seminar. And thank you for the fantastic lunch that I never expected! You both were successful in not only educating us but helping us see there are honest and earnest car repair shops who truly want to help us and keep us safe."
"This community outreach has created for me a feeling of trust and relief that I can bring my vehicles to you and know you will be honest and forthright in all my car repair needs. I look forward to knowing when your next seminar will be so I can tell my Zumba students!"
If you'd like to be notified about future seminars, contact us at DeBoer's Auto and we'll put you on our reminder list!